---
FAST FACTS HAWAII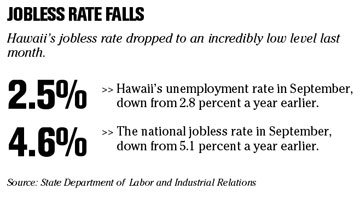 ---
HAWAII


Hawaii jobless rate falls to 2.5 percent

Hawaii's seasonally adjusted unemployment rate fell to 2.5 percent in September from 2.8 percent a year earlier, according to the state's Department of Labor and Industrial Relations.

In comparison, the U.S. seasonally adjusted unemployment rate declined to 4.6 percent in September compared to 5.1 percent a year earlier.

September also the third consecutive month that Hawaii's jobless rate declined from the previous month, the agency said yesterday. In August, the rate was 2.8 percent.

In September, Hawaii counted 642,750 individuals that were employed, and 16,200 that were unemployed statewide.
NATION


3 former Knight papers plan layoffs, changes

The new owners of three former Knight Ridder newspapers announced layoffs, expected layoffs and abrupt changes in management yesterday as they painted a bleak outlook for the newspaper industry.

The San Jose (Calif.) Mercury News said it planned to lay off 101 people from its work force of 1,260 employees. The cuts are to include 40 workers from the 280-member newsroom.

The new owner of the Philadelphia Inquirer and its sister paper, The Daily News, said in a memo to the staff that "some layoffs are unavoidable." Both papers underwent significant cuts last year.

And at the Contra Costa (Calif.) Times, the editor was abruptly made "redundant" as the paper consolidated many of its functions under its new owner, according to a memorandum to the staff.

Owners of all the papers said that most newspapers across the country were facing the same situation, largely because of significant drops in advertising revenues.
Icahn may already control ImClone
The billionaire investor Carl C. Icahn appears to be gaining effective control of the board of
ImClone Systems
even before shareholders of the biotechnology company finish voting on his proposal to oust four directors.
Yesterday, ImClone said that Dr. Peter S. Liebert, an ally of Icahn, had been named a director of the company. It also said that Icahn would become the chairman of a board committee searching for a new chief executive.
Icahn, who owns about 14 percent of ImClone, has been waging a battle to win control of the board, which he accused of having a "sorry record" over the last few years. Among other things, he said, the company failed to aggressively expand the use of its only marketed product, the cancer drug Erbitux.
But judging by yesterday's developments, Icahn is already calling the shots. The appointment to the board of Liebert, chief of pediatric surgery at Stamford Hospital in Connecticut, means that five of 11 board seats are now held by Icahn and his handpicked allies.
Panel rebukes board over firing
Amid allegations of extramarital affairs with female employees, illegal activity in trading accounts, and the misuse of company aircraft, Robert J. O'Connell was unceremoniously fired as chief executive of
Massachusetts Mutual Life Insurance Co.
for cause by its directors in June of 2005.
It turns out the directors may have made a mistake.
In a rebuke of the board, some of its directors, as well as its outside counsel, a three-person arbitration panel has found that the board did not terminate O'Connell "for cause." The panel said that O'Connell did not breach his fiduciary duties to MassMutual and that he was owed benefits he had been previously denied. His lawyers estimate he could be repaid as much as $50 million.
Fund's investors to get $106.5M
Bayou Group investors will receive $106.5 million for money they lost as a result of a scheme to cover up heavy trading losses at the now-collapsed hedge fund.
The funds were transferred to New York on Thursday after the FBI confirmed that the money, which had been traced from Stamford, Conn.-based Bayou's accounts to banks in Europe and New Jersey, belonged to victims of the fraud, according to the U.S. Justice Department and the Arizona attorney general's office.
"We are able to return this money because of the heads-up response of our attorneys and investigators," Arizona Attorney General Terry Goddard said in a statement. "This is a great day for the victims who trusted Bayou Management to protect their investments."
Arizona seized $100 million as part of a May 2005 investigation. The funds will be distributed after a final order is entered in a pending civil action, the U.S. Attorney's office in New York said in a statement.
WORLD


Shareholders back Murdoch's poison pill

Rupert Murdoch won a crucial round yesterday in his continuing joust with John C. Malone when shareholders of

News Corp.

approved a poison pill takeover defense that will help Murdoch keep his rival at bay.

The vote could also improve Murdoch's leverage in talks over sending News Corp.'s controlling stake in DirecTV, the satellite television service, to Malone's Liberty Media Corp. in exchange for Liberty's 19 percent holding of News Corp.'s voting shares.

If the poison pill had been struck down, it would have increased the chances that Malone could eventually seize control of News Corp., something Murdoch strongly opposes because he plans to eventually pass control of his company to his children.

Murdoch said a deal for DirecTV might be near, but he had the posture of a man with time on his hands. "We're not in any rush and hurry at all," he said after the meeting.

The pill, which was instituted last year over the objections of some shareholders, effectively prevents Malone from increasing his stake in News Corp. until October 2008 without board approval.




---
BUSINESS PULSE