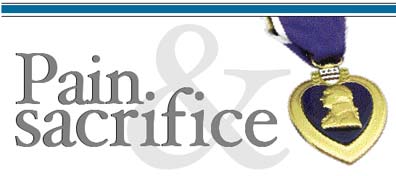 48 Marines and a sailor receive the Purple Heart for service in Iraq
LANCE CPL. Dino Don Vigliotti was manning a 50-caliber gun on top of a Humvee when an improvised explosive device hit his vehicle, throwing him 150 feet. Two Marines in the vehicle were killed immediately.
The driver took most of the blast, saving Vigliotti and another Marine.
"It would have been me and my corporal," said Vigliotti, who spent 12 weeks in the hospital.
Vigliotti and several other Marines of the 3rd Battalion 3rd Marine Regiment who were injured in Iraq commended their fellow Marines for saving their lives yesterday at a Purple Heart ceremony. The Marines finished returning this month from a seven-month deployment to the Haditha area in Iraq.
In front of nearly 1,000 Marines filling the Base Theater at the Kaneohe Marine Corps Base Hawaii, 48 Marines and one sailor with the Hawaii unit were honored with the Purple Heart medal.
Lt. Col. Norm Cooling noted that the ceremony was informal and would not take away from the memorial service tomorrow for the 12 Marines in the unit who died in Iraq.
"Nothing that we recognize here today compares to the sacrifice made by the families of the Marines that did not come back with us," Cooling said.
"Although you have lost a son, there are 960 more behind you," he told the family members of Marines who were killed in Iraq.
Marines lined up, offering their condolences to the mother of Cpl. Michael Estrella, who was killed in Iraq. After speaking with Estrella's mother, Lance Cpl. Cogen Nelson said, "I just wanted to let her know that her son was a great person, a great friend. He was also a great Marine."
The honored Marines and sailor marched onto the stage in companies. Cooling pinned the purple ribbon medal onto the left breast pocket of each Marine. Three Marines earned two purple hearts, Cooling said. Seventy-four Marines of the battalion were wounded in Iraq.
Sgt. Jon Gonzalez wore a black brace on his left arm. Three weeks before he was scheduled to return home, he was hit with a rifle bullet that broke his arm and severed his artery. Doctors told him he should regain 90 to 95 percent use of his arm.
For Gonzalez the Purple Heart was not of great importance. "I haven't really thought about it," he said. "I'm glad I'm back and all my guys came back alive."
In August nearly 1,000 Marines with the 2nd Battalion 3rd Marine Regiment began deploying into Iraq to replace the 3/3.
Some Marines were anxious about the memorial service today for fellow Marines who were killed in Iraq.
"Tomorrow's going to hurt," Lance Cpl. Matthew Melendez said. "It's going to bring back the feeling that I first had. It's all balled up right now. I can feel it's right there, ready to pop."
THE FALLEN
3rd Battalion, 3rd Marine Regiment, casualties in 2006:
» April 2: Cpl. Andres Aguilar Jr., 21, of Victoria, Texas, died when the 7-ton truck he was riding in rolled over in a flash flood near Al Asad.
» April 20: Staff Sgt. Jason C. Ramseyer, 28, of Lenoir, N.C.
» April 22: Cpl. Eric R. Lueken, 23, of Dubois, Ind.
» May 12: Lance Cpl. Adam C. Conboy, 21, of Philadelphia died of nonhostile wounds.
» May 14: Lance Cpl. Jose S. MarinDominguez Jr., 22, of Liberal, Kan., and Lance Cpl. Hatak Yuka Keyu M. Yearby, 21, of Overbrook, Okla.
» May 22: Sgt. David R. Christoff, 25, of Rossford, Ohio, and Lance Cpl. William J. Leusink, 21, of Maurice, Iowa, died from wounds received May 21.
» June 14: Cpl. Michael A. Estrella, 20, of Hemet, Calif.
» Sept. 14: Lance Cpl. Ryan A. Miller, 19, of Pearland, Texas
>> Sept. 20: Cpl. Yull Estrada Rodriguez, 21, of Alegre Lajas, Puerto Rico