| | |
| --- | --- |
| | Island Mele |
---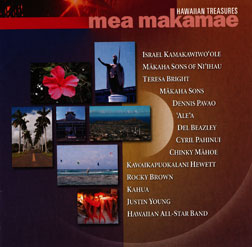 Mea Makamae, Hawaiian Treasures
Various artists
(Poki SPCD 9077)
Hoku Award-winning record producer Kata Maduli is the common denominator in this anthology of recordings previously released by Lea Uehara's venerable Poki Records label and its affiliates.
Maduli has extensive credits as a musician, but it is his skill as a producer that has made him a major player. This is a fine showcase of his work.
Anyone who thinks that the solo career of Israel IZ Kamakawiwo'ole began with "Facing Future" will find the lead-off track, IZ's recording of "Kana'i Aupuni," a tantalizing introduction to the music he recorded for his first solo album, "Ka 'Ano'i," in 1990.
Other artists heard here include Teresa Bright, Frank Kawaikapuokalani Hewett, Cyril Pahinui, Chinky Mahoe, 'Ale'a, the Makaha Sons of Ni'ihau and the current Makaha Sons.
Three others are "undiscovered treasures." Rocky Brown's exquisite "Kamalani O Keaukaha" comes from her long-forgotten 1997 album "In Character," Justin Kawika Young's recording of "Ka'iulani" reaffirms that he is much more than a popster, and Kahua's recording of "Kahua O Mali'o" shows that they, too, deserved more attention than they received.
---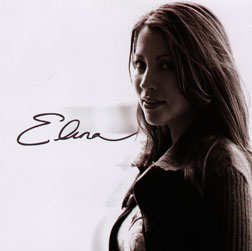 Elina
Elina
(Attic - No serial)
Single-monikered Elina introduces herself with an enchanting debut album. The emotions and experiences she describes transcend gender but will resonate most strongly with women going through the same romantic ups and downs. Men will first be entranced by her voice; it's simultaneously seductive and sweet, but she doesn't sound like she's faking it, a la Britney Spears.
The songs cover familiar romantic territory in memorable style. The skyscrapers of New York become the embodiment of unlimited dreams in "Dream Like New York." A self-centered lover is permanently dismissed with devastating style in "I Don't Want To."
Elina's husband, producer Tyrone Wells, joins her on "Lucky," a light-hearted but touching portrait of a successful relationship.
Wells keeps the arrangements soft and soothing. Acoustic instruments suffice for the most part, a single cello adding darker tones under Elina's guitar.
Remaking other artists' hits is always risky, but Elina's reworking of "With or Without You" fits in nicely amid her impressive collection of originals.
---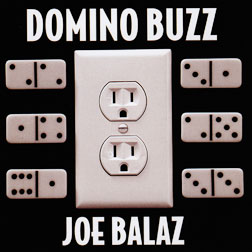 Domino Buzz
Joe Balaz
(Iron Bench Press JPBC 100)
Expatriate island poet Joe Balaz starts with his own death and moves on from there with this collection of free-form narratives presented with minimal musical support. Several stand out as engaging pieces in their own right. Others work best if left in context.
"Lounge Lizard" is Balaz's most immediately mainstream piece. The concept is similar to a well-known story about a bar full of fish, and Balaz's protagonist is a lonely lizard. The guy has designs on an "exotic" tuatara who has a "well-developed third eye" but discovers she's hooked up with a Komodo dragon. Balaz's wit, command of the language and judicious use of cultural references make "Lounge Lizard" a delight.
"In the Alley," a description of a man who "goes bowling but doesn't bowl," is also memorable. Other cuts address homelessness, compare inspiration with coconuts and ponder the nature of the universe.
Hawaii residents who remember Balaz will welcome this new collection of his odd but thought-provoking assessments of the human condition. This isn't "slam poetry," but local poets with aspirations as performers will also find his work of interest.
John Berger
, who has covered the local entertainment scene since 1972, writes reviews of recordings produced by Hawaii artists. See the Star-Bulletin's Today section on Fridays for the latest reviews. Reach John Berger at
jberger@starbulletin.com
.