Program tapes debut at jazz club birthday party
THE O LOUNGE isn't the only establishment on Kapiolani Boulevard celebrating an anniversary this week.
It's been a year since Young Hae Yi opened up Jazz Minds Art and Cafe, and she'll celebrate on Saturday with a full night of entertainment and the taping of a new jazz-themed television show. Things get started at 6 p.m. with local singer Ginai and a camera crew for "Ginai's Jazz Island," returning on the third Saturday of every month to film subsequent episodes. This month's inaugural guests are Sandy Magsino and the Justin James Quartet.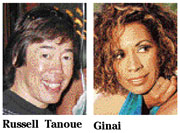 Once taping is pau, Son Caribe and DeShannon Higa will step in to keep the live music going. Joining them is DJ Mark, who will spin Latin house until closing time at 2 a.m.
Higa, you may recall, was one of the first to play at Jazz Minds. His Thursday night "gr00ve.imProV.arTiSts" residency continues to be one of the most popular gigs at the venue, along with the Buddy Mak Jazz Quartet on Fridays and the Nu Swing Project with singer Maria Remos on Mondays ...
IT'S A common suggestion these days, but Chinatown really is a great place to spend the evening if you just want to kick back with a few drinks.
The newest reason to visit is Du Vin, a new wine bar located across the street from the Hawaii Theatre. I had a chance to stop by a couple weeks ago with Cox Radio Hawaii's Cedric Duarte, and even though I'm not a big fan of grape juice for adults (we drank Sam Adams when we visited!), I can't wait to go back.
Owner Dave Stewart obviously knows what he's doing, after running Indigo for years and recently adding Bar 35 to his stable of watering holes. Du Vin features a long main bar and comfy main room that feels like it's spilling out onto the sidewalk, thanks to the folding doors that seemingly disappear into the walls during business hours.
But the best part about this place, just like Bar 35, is the action out back. There's a neat little patio area with various nooks for customers to get away from the crowd. It also connects you to a second, more intimate room with a separate bar to ensure the liquor keeps flowing.
I'm almost certain Du Vin will attract a strong following in the upcoming weeks, so stop by soon before it gets too nuts ...
LOCAL PHOTOGRAPHER and part-time party host Russell Tanoue returns to the spotlight this weekend, but not where most people would expect him to be.
As I reported last month, he's in the preliminary stages of planning a renewed partnership with Beau Mohr at Pearl, after years of working together at the Ocean Club. On Saturday, however, Tanoue takes the party to Indigo for "Beautiful," a new monthly that will rotate among various Honolulu nightspots.
DJs Jahson the 45 Revolver and Ms. Angel have been recruited to spin this weekend, with Leah Baker and Chelsea Gines selected as the featured model and designer of the month, respectively. Doors open at 10 p.m. and a $10 cover will be in effect, with a portion of the proceeds donated to the American Cancer Society ...
THE UNDERGROUND sounds of DJ Kavet the Catalyst return to rRed Elephant on Friday, as the Lightsleepers frontman hosts the all-ages "Trip the Lights: Versus" at 8 p.m.
This one is all about the battles, even though there will be no judges present. Big Mox will take on Obese Jesus in a MC battle, Ion Myke and SlappSymphony will throw down with homemade beats, and DJs Solution and Memoirs will square off to see who has better turntable skills ...
I'M TAKING a few days off this week, so there will be no column Tuesday. "In the Mix" returns next week in HILife ...