---
FAST FACTS HAWAII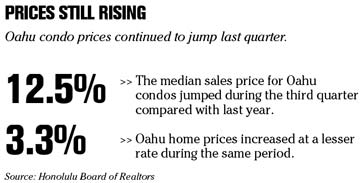 ---
Tony Group comps cars for coaches
Coaches for
Hawaii Winter Baseball
are driving around in eight new vehicles presented by sponsor Tony Group Autoplex earlier this month.
The presentation was made at the league's opening ceremonies at Waipahu's Hans L'Orange Field and included two Hondas, two Nissans, one Volkswagen and three Hyundais.
"Hawaii Winter Baseball and the Hans L'Orange Field are in our backyard," said Tony Group President Stan Masamitsu.
"We're proud to have the opportunity to support top young professional ballplayers as they join our community to play against top U.S. and international competitors."
Hawaii Winter Baseball is owned by Duane Kurisu, who is also a minority investor in the Honolulu Star-Bulletin.
[HAWAII INC.]
PROMOTIONS
» The U.S. Department of Energy has assigned
William Parks
to serve as senior energy specialist to help the state of Hawaii implement the Lingle administration's Energy For Tomorrow program. Parks will be responsible for fostering collaboration between the federal government and Hawaii by organizing partnerships between the energy industry, federal agencies and private sector organizations. Parks is deputy director of research and development in the federal Office of Electricity Delivery and EnergyReliability.
» MW Group Ltd. has promoted Brandon Metter to facility manager for all Oahu properties. He will oversee all of the group's office, retail and industrial assets. Before joining MW Group in 1998, Metter previously supervised refrigeration in containers and vessels for the Alaskan seafood industry.
» Pacific Guardian Life Insurance Co. has promoted Cora Baclig-Credo to its first director of sales-Filipino market. She will continue to serve as general sales manager of the company's Filipino community center sales office and will assume additional responsibilities as a sales director for the company's entire Hawaii operation. Baclig-Credo previously worked for the former International Savings & Loan for 17 years before joining Pacific Guardian in 1996.
>> Roberts Hawaii has promoted Deems Narimatsu to senior vice president from vice president westbound sales. He will be responsible for day-to-day supervision of operations on all islands. David Oyadomari has been hired as the new vice president westbound sales and marketing. He will oversee sales and marketing teams, establish strategies and business opportunities. Oyadomari previously served as area marketing manager/director of marketing for Sprint Corp.
AWARDS
» American Board of Independent Medical Examiners has named
Dr. Armand K. Chong
as a certified independent medical examiner. He is the only dentist in the nation to receive this certification, for which physicians must meet specific criteria for education, training and experience. Chong has a general dentistry practice in Honolulu and is owner and founder of Hawaii TMJ Institute.
» McDonald's Restaurants of Hawaii has awarded Charlene Lin Oi Nash with its annual manager of the year award, which is presented to managers who demonstrate excellent operational performance and a commitment to their crew and restaurant. Nash has worked for McDonald's for nearly 36 years and was chosen from among 85 managers in the Hawaii region.
» The National Association of Realtors has awarded Castle & Cooke Realty Inc.'s Frances E. Ueunten with the designation of Realtor Emeritus. This recognizes her 40 years of membership in the association, and her valuable contribution to the real estate profession.
» The Council of Residential Specialists has awarded the Certified Residential Specialist designation to the following real estate agents: Kyle Sakoda of Coldwell Banker Pacific Properties and Brad Nelson of Hawaii Realty Associates LLC. Realtors who receive this designation have completed advanced courses and have shown professional expertise.
---
PlayStation 3 to start with over 20 games
Sony Corp.
will have more than 20 games for the new PlayStation 3 console for the holiday season as the company strives to build enthusiasm for the new system.
Titles will include "Resistance: Fall of Man" and "Genji: Days of the Blade," Sony Computer Entertainment said yesterday. Tokyo-based Sony is the world's largest maker of video-game consoles.
Sony is bringing out games to protect sales of the system from rivals Microsoft Corp. and Nintendo Co., which is to release its Wii system in November. Production snags cut by half the first batch of PS3 consoles being introduced. Titles often count more than technology to the teens and young men who account for about 62 percent of video-game players.
Google nearly doubles its profit
Google Inc.
said third-quarter profit almost doubled, beating analysts' estimates, as the world's most- used Internet search engine sold more advertising and extended its lead over
Yahoo! Inc.
The shares rose almost 8 percent.
Net income advanced to $733.4 million, or $2.36 a share, from $381.2 million, or $1.32, a year earlier, Google said today in a statement. Profit excluding stock compensation costs was $2.62 a share, beating the $2.56 estimate of Jefferies & Co.'s Youssef Squali. Revenue jumped 70 percent to $2.69 billion.
Mortgage rates edge downward
WASHINGTON » Rates on 30-year mortgages, after rising for the first time in five weeks, edged down slightly this week.
Mortgage-giant Freddie Mac reported yesterday that 30-year, fixed-rate mortgages dipped to 6.36 percent. That compared to 6.37 percent last week when rates had risen after having fallen to a seven-month low of 6.24 percent.
Rates on 15-year, fixed-rate mortgages, a popular choice for refinancing, averaged 6.06 percent this week, the same as last week.
Rates on one-year adjustable rate mortgages edged up slightly to 6.11 percent, compared to 6.10 percent last week.
OPEC backs 4% production cut
DOHA, Qatar » OPEC producers sought to reassert their grip on falling oil markets yesterday by backing a production cut of 1.2 million barrels a day, and suggested more reductions could follow this year to prop up sagging prices.
The decision to cut output by about 4 percent, slightly more than expected, was made here during a late-night emergency meeting in the capital of the Persian Gulf state of Qatar.
It represented the first production cut in two years by the OPEC oil cartel, which pumps 40 percent of the world's oil exports.
---
BUSINESS PULSE