Isle gas prices dip under $3
The Hawaii average remains well above the mainland average of $2.22 per gallon
While still the highest in the nation, Hawaii's statewide average for gasoline has dipped below $3 a gallon for the first time in six months.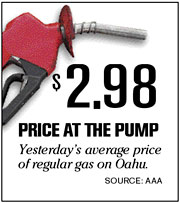 Yesterday's average for regular, self-serve unleaded was $2.98 a gallon, according to AAA's Fuel Gauge Report. Next highest were Alaska at $2.76 and Washington state at $2.57.
Hawaii's statewide average hit $3 a gallon on April 11, when geopolitical tensions and concern over global supply caused upward spikes in crude-oil prices and mainland gas costs to which island prices were tied to under the now-suspended gasoline price caps.
But while the mainland average went below $3 on Aug. 15 -- and has since plummeted to $2.22 yesterday -- Hawaii's prices have fallen into the familiar pattern of lagging behind such nationwide trends.
Oil industry critics have renewed arguments that Hawaii's market is not competitive and allows the industry to maintain excessively high prices. Industry officials continue to point out that Hawaii's market is unique and that the trend is due to market conditions such as the added time it takes to ship crude oil to the islands.
"It doesn't take much common sense to know that we are different from the mainland," said Bill Green, former owner and now a consultant to Kahala Shell. "We do not have the interlocking gas pipelines and the instant price wars as they do on the mainland. ... We will never react that quickly because our sources are different, the supply is different, the demand is different."
Oil companies have said costs have increased due to ethanol blending mandates, while analysts note that the state's two refineries -- operated by Chevron and Tesoro -- are fairly old and can only process low-sulfur crude oil, which is more expensive than other grades of crude.
Officials with Chevron and Tesoro say the companies set wholesale gas prices competitively based on market conditions, adding that there is competition at the retail level.
But consumer advocates remain unconvinced and have continued calling on Gov. Linda Lingle to reinstate price caps, which she has the power to do under the law that was passed to suspend the pricing regulations.
"We're back to where we were before (the caps), only worse, because now the gasoline companies figure they can get away with it," said Richard Miller, a University of Hawaii law professor and member of the group Citizens Against Gasoline Price Gouging.
He said the 76-cent difference between the mainland and state averages is indicative of how Hawaii's prices could have fallen if the price caps were still in place.
Miller also highlighted the difference between Costco Wholesale Club and traditional retail stations. Costco was selling regular unleaded at $2.65 a gallon on Oahu yesterday, according to the Web site Honolulugasprices.com, and has come down considerably faster than other stations.
Costco does not release information on how its prices are set.
Green says comparing the prices is unfair because many stations also provide automotive services, operate minimarts and have higher rents than most businesses.
"You buy lettuce at Costco at half the price, you buy soap at Costco at half the price -- they have an incredible buying power," Green said. "They sell gasoline primarily to promote sales in the store, not to make a profit."