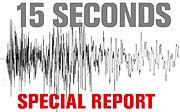 Some open-air Masses held as Big Isle parishes assess quakes' damage
One Big Island Catholic church was closed and the bell tower of another was ruled unsafe for entry because of structural damage caused by Sunday's earthquakes.
There will be no Sunday Mass any time soon at St. Joseph Mission in Paauilo, which sustained a cracked ceiling beam and cracked walls. The mission is attached to Our Lady of Lourdes parish in Honokaa, where three Masses are said each Sunday.
"St. Joseph is blocked off," said parish secretary Cindy Juan. "No one is to go in there."
The nearby parish hall shifted about three inches on its foundation and was also deemed unsafe.
St. Michael Church in Kailua-Kona put its four-story bell tower off limits after an engineer inspected it Tuesday, said parish administrative assistant Susan Bender. "One wall in the tower was partially collapsed, and there are three cracks visible."
Bender said the tower, a landmark feature of the 156-year-old rock and limestone church, houses the air-conditioning machinery, a robing room for altar servers and storage space for seasonal church decorations, and is topped by the church bell.
The tremors also toppled a statue of Mary, the mother of Jesus, from a niche in the front of the church. "The feet were cracked off. The rest of her is intact," Bender said.
The Honolulu Catholic Diocese does have earthquake insurance on the churches, said diocese spokesman Patrick Downes. No monetary assessment of the damage is available this soon, he said.
Catholic Bishop Larry Silva will decide whether to rebuild the mission church after consultants assess the damage and estimate the cost. Diocese officials will meet with parishioners before a decision is reached, Downes said.
The church was built in 1957 to serve the large population of the Hamakua Coast at a time when the sugar industry was thriving.
Now, there is only one Mass a week at St. Joseph Mission. "Thankfully, it wasn't until 8:15, so there weren't people inside when the earthquake came," Juan said. An interior drywall panel collapsed into the choir area during the quake, she said. "When people arrived, they just closed it up. We're just happy nobody was hurt. Material things we can replace."
At the Kailua-Kona church, which draws a large crowd of visitors as well as residents, the five Sunday Masses were held on the lawn, as were the Monday and Tuesday morning services. Bender said that once the inspecting engineer finds it structurally sound, "we're happy to have Mass in the church again."
Other earthquake damage reported:
» Part of a rock wall bordering the parking lot of Our Lady of Lourdes in Honokaa slid down a slope in front of the church.
» Old gravestones in parish cemeteries at Honokaa and Kalopa fell over, and there was some sinking of ground at grave sites.
» On Maui, part of a wooden cross atop St. Peter Mission in Puuiki shook loose and fell. A crack also developed on a pillar, but it is not serious enough to affect the structure, said the Rev. Paul Zegers.
"I was saying Mass at the time. We just paused for a moment," Zegers said. "It is only the Lord showing his power. We are in his service so he took care of us."