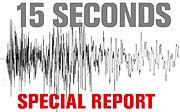 Isles' crisis preparations facilitate FEMA's response to earthquakes
Lessons learned after Katrina are now being applied in Hawaii, the federal agency says
Bob Fenton chuckled as he recalled late-night host Jay Leno poking fun this week at how his agency, the Federal Emergency Management Agency, responded immediately to Hawaii's earthquake because it had arrived the day before to assess damage from the 1941 attack on Pearl Harbor.
"That's pretty funny," said Fenton, who is managing earthquake response operations in Hawaii.
While Fenton and others at FEMA can now laugh at the jokes directed at their agency, they take seriously the criticism lodged in the aftermath of Hurricane Katrina, which killed hundreds and led to levee breaks that flooded New Orleans.
"We've learned from those lessons. We continue to learn from those lessons and prove our ability," said Fenton, who was dispatched to Mississippi for Katrina.
Some of those lessons are being applied here in Hawaii, but Fenton and other FEMA officials said Hawaii already has several factors in its favor that make FEMA's job easier, including a local FEMA office, a warehouse stockpiled with emergency supplies that can be sent anywhere across Hawaii and the Pacific, more emergency supplies already pre-positioned on all seven neighbor islands, and a good relationship with local civil defense officials.
FEMA has set up makeshift quarters for the earthquake response at Fort Shafter with about 100 personnel, the majority flown in from the mainland. Hawaii is part of FEMA's Region IX, which also includes California, Nevada, Arizona, Guam and American Samoa.
The operations center also includes officials from other federal agencies manning phones and mapping out strategies.
Each day, FEMA sends out teams to the Big Island to assess the damage.
Public affairs officer Kim Walz said the agency is looking for more permanent offices in Honolulu and on the Big Island.
One of the criticisms of the Katrina response was directed at the communication and relationship breakdown between the different levels of government -- federal, state and local.
Fenton said that is not the case here in Hawaii, where FEMA has forged long-standing relationships with state and local government emergency agencies and other federal agencies.
"The system worked as it was entailed to work because local government reacted quickly," Fenton said.
Take Woody Goins Jr., director of FEMA Region IX Pacific Area Office, who literally hit the ground running after the first quake jolted him out of bed in his high-rise condominium, located near the State Civil Defense emergency operating center at Diamond Head.
"I knew it was a significant event so I immediately evacuated the 37th floor where I live. The elevators were down and I ran. Yeah, I did run," Goins said.
Goins said after determining that there was no threat of a locally generated tsunami, he got in his car, and FEMA had a presence at the state emergency center before 8 a.m., less than an hour after the earthquakes.
Within minutes of the quakes, Goins was on the phone to the regional FEMA director, and within a few hours he was briefing FEMA Director R. David Paulison.
"The director of FEMA wanted information as soon as possible," Goins said. "He and his staff were heavily engaged from the very beginning, and they wanted an update from us on the situation and they wanted to know if we could get people on the ground as soon as possible on the Big Island, to get eyes on the ground."