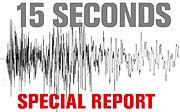 Families working to save homes
At least two Waimea families who had their wood-frame houses knocked off post-and-pier foundations by earthquakes on Sunday are struggling to save their homes.
Raymond Yamasaki and friends have stuffed props under the edges of the home he built 33 years ago along Mamalahoa Highway. Yamasaki has patched broken water and sewer lines for the short term.
He and his wife, Gertrude, continue to live there, even though the floor has a serious tilt to it and they had to break their front door to get out of the mangled house on Sunday.
Yamasaki said he hopes to have a contractor lift and steady his home, but intends to stay there until then.
"I live in Waimea, but I always wanted to move to Hilo. I've made it about three feet," Yamasaki joked yesterday.
About a mile away on Hoohoa Street, Dennis Martin also is trying to salvage his family's home, even though his wife, Leona, does not want to live there anymore.
Sunday's earthquakes knocked the Martins' three-bedroom home off its post-and-pier foundation, dropping it four feet to the ground and snapping its water and sewer lines.
Electricity is cut off, piers that support the floor of the wood-frame home are twisted and the county has declared the structure unusable.
Crushed underneath the house was some of the groundskeeping machinery Martin uses for his business, he said. And the insurance had lapsed. And the cesspool caved in.
"I'm in big trouble," Martin said yesterday as he stood in the yard of his home.
An early estimate of the cost to repair the Martins' home is $350,000, he said.
"It's a big hit," said Martin, who has four children and works as an unpaid associate pastor at New Hope Waikoloa Church in addition to his bread-winning jobs. "It's a big hit."
Still, Martin and his brother Dwight spent Monday, Tuesday and yesterday with seven large jacks, laboriously raising the fallen house inch by inch. By late yesterday afternoon they had jacked the house to within a half-foot of its elevation before the earthquakes.
"I'm trying to save the house," Martin said, his work clothes covered with dirt and beginning to turn muddy in a misty rain.
"We need FEMA," Dwight Martin said.
The Martins are staying with friends now but expect to start renting a house for $1,900.
"The mortgage here is $1,500," he said. "We can't do it."
As of yesterday afternoon, inspectors had not told the Yamasakis that they had to go anywhere else.
"I'm waiting for the Civil Defense engineers to tell me what I need," Yamasaki said.
On the one hand, Yamasaki should have secured the house to its foundation, he said yesterday. On the other hand, he credits his building style with the house holding together as well as it did.
"I didn't use any clips," he said, "but I'm one of those that puts plenty of nails."