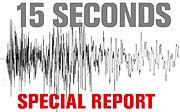 Quakes damage 1,159 Big Isle houses
Four days after two earthquakes shook the Big Island, the destruction they caused is becoming much clearer, and more painful.
Damage estimates now stand at nearly $75 million, and that figure is certain to rise, said Big Island Mayor Harry Kim. It does not, for example, include the more than 1,000 damaged homes mentioned yesterday during a news briefing by Maj. Gen. Robert Lee, head of Civil Defense.
The figure also lacks any assessment of agricultural damage and might fail to take into account "hidden damage" yet to be assessed, he said. The biggest category in Kim's list was schools, which suffered $43.5 million in damage.
In Honolulu, Lee said 29 dwellings on the Big Island are uninhabitable and that another 1,130 have sustained damage that could make them uninhabitable. But Lee said that no one has asked for shelter so far.
"We have not opened new shelters. They are staying with relatives or being cared for," Lee said.
Because a bridge on Hana Highway is closed just before Kaupo, state tourism liaison Marsha Wienert said she has contacted rental car companies asking them to let campers in the area take their cars on the back road from Kaupo around to Kihei, a route usually forbidden on rental car contracts.
State Agriculture Director Sandra Kunimoto reported that two Big Island irrigation systems have been damaged by landslides that blocked water intakes. Kunimoto said that existing reservoirs for the Waimea and Hamakua irrigation systems have enough water for several months of farm use.
"We have a 100 million-gallon reservoir and a 60 million-gallon reservoir (that are) feeding all the farmers in Waimea, and that water should last for a couple of months," Kunimoto said.
"We do not know the extent of the damage in the mountains because rocks are still falling and it is dangerous and because it has been raining. It is quite wet.
"Some areas are only accessible by helicopter, and some areas need to be hiked into," Kunimoto said.
SOME SCHOOLS on the Big Island were nearly back to normal yesterday. On their first day back at school, Honokaa Intermediate and High School students were still talking about the quakes but glad to be back in school.
"Everyone has a war story to tell," said seventh-grade life science teacher Boyd Bond, who took a few minutes at the beginning of class to ask students how their families fared in the earthquakes and their aftermath.
Sharmaynne Tabucbuc, a Honokaa seventh-grader, described her experience with the earthquakes as "terrifying."
Another student said the quakes caused a landslide/ sinkhole on the edge of her family's yard.
"I ran outside in my underwear," said Iris Seaton. "I thought it was a nuclear bomb."
Students at Honokaa and Waikoloa Elementary schools will get the rest of the week off, DOE spokesman Greg Knudsen said, as officials continue to assess the damage to the two schools.
Waimea Elementary School reopens tomorrow and is expected to hold its parent-teacher conferences today.
Honokaa school officials are reaching out to the community, including local churches, for space to hold classroom instruction, Knudsen said.
The Education Department is not required to have makeup days for classroom instruction lost as a result of a disaster, and it would be up to the individual schools, he said.
KIM EMPHASIZED the need for officials, including Red Cross teams, to complete assessments so a request for money can be sent to the federal government.
FEMA officials on the island can only make recommendations, with Washington making the final decision, said Fort Shafter-based FEMA officer Ron Peterson.
So far, money has been approved only for debris removal and emergency protection. Higher levels of funding will depend on the ability of state and local governments to pay for repairs, Peterson said.
Despite the extent of the damage, Kim was upbeat about the speed with which cleanup has taken place, telling officials in a meeting yesterday that they had done a "bang-up" job.
Signs of success include the fact that the Big Island has electricity, which allows for pumping water, which enabled resorts to remain open, he said.
The resorts were open because each had developed its own advanced plan for dealing with an emergency. An example was the Sheraton Keauhou, which was able to take care of its own guests plus 30 patients from the Kona Community Hospital, he said.
Responding to a national headline that claimed there was "havoc" after the earthquakes, Kim said, "There is no havoc here." In fact, so much of the damage is "hidden" that officials taking helicopter tours will not see it, he said.
---
Star-Bulletin reporters Richard Borreca, Diana Leone, Gene Park and Rod Thompson contributed to this report.