---
FAST FACTS HAWAII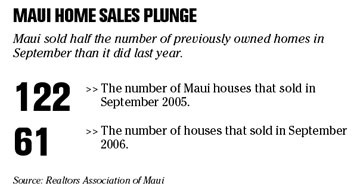 ---
HAWAII


Kapolei warehouse sells for $18.5M

The company that owns Waianae Mall, the Waikiki Trade Center, and a shopping center in Waikoloa has purchased an industrial warehouse in Kapolei for $18.5 million.

Pacific Warehouse Inc. sold the property at 91-315 Hanua St. to 3D Investments LLC of Beverly Hills, Calif.

The transaction, which closed last week, was brokered by Dennis Simoncelli of Sofos Realty Corp., who represented the buyer and the seller.

The 189,000-square-foot warehouse sits on two lots totaling about 11.3 acres, and is leased to C&S Logistics of Hawaii LLC. The deal comes at a time when industrial vacancy on Oahu is at a historic low of less than 2 percent.
NATION


AMD shares fall on profit concerns

SAN JOSE, Calif. >>

Advanced Micro Devices Inc.

, the No. 2 computer chip maker behind

Intel Corp.

, reported yesterday a 77 percent jump in earnings from last year on record sales of laptop processors.

The increase beat Wall Street's expectations but AMD's shares went tumbling on concerns about falling profit margins and lower desktop processor prices.

Sunnyvale, Calif.-based AMD said that net income for the quarter ended Oct. 1 was $134 million, or 27 cents per share, compared with $76 million, or 18 cents a share, in the same period last year.

Revenue for the quarter was $1.33 billion, down from $1.52 billion last year. But AMD's profit last year was depressed by the company's unprofitable flash memory business, which was spun off in late 2005.
A fraction of new iPods contain virus
SAN JOSE, Calif. » In another example of how mobile gadgets can carry malicious programs,
Apple Computer Inc.
said a fraction of its iPod players sold in the past month contained a virus that affects Windows systems.
The problem affected less than 1 percent of the video iPods that were available for purchase after Sept. 12, according to a posting on Apple's technical support Web site. The company has received less than 25 reports concerning the problem, Apple said.
The iPods got the virus from a Windows computer at one of its manufacturing plants, Apple said. The virus, RavMonE.exe, is known to spread through external data storage devices when they are connected to computers and affects only machines running the Windows operating system from Apple rival Microsoft Corp. Security experts say the virus opens up further security holes for hackers.
Up-to-date anti-virus software included with most Windows computers should detect and remove it, Apple said.
Six Flags will initiate a code of conduct
Six Flags Inc.
, the second-largest U.S. theme-park operator, will implement a code of conduct for guests banning certain language and clothing to combat rowdiness.
The new code focuses on behavior and dress and will be posted outside ticket-sales areas at Six Flags' 30 theme parks beginning next year, the New York-based company said yesterday in a statement.
WaMu's profit drops 8.9 percent
Washington Mutual Inc.
, the largest U.S. savings and loan, said third-quarter profit declined 8.9 percent, missing analysts' estimates, as demand for home mortgages flagged and short-term interest rates climbed.
Net income dropped to $748 million, or 77 cents a share, from $821 million, or 92 cents, a year earlier, the Seattle-based bank said yesterday in a statement. Results were hurt by a $33 million loss from the home-loan unit, compared with a $302 million profit in last year's third quarter.
EBay raises earnings forecasts
SAN FRANCISCO »
EBay Inc.
reported yesterday that third-quarter profit increased 10 percent from the same period last year, beating Wall Street's moderate expectations and encouraging executives to raise earnings forecasts for the year.
The San Jose-based online auction company earned $280.9 million, or 20 cents per share, for the three months ended Sept. 30, compared to $254.97 million, or 18 cents per share in the year-ago period.
Revenue for the third quarter totaled $1.45 billion, up 31 percent from last year's $1.11 billion.
WTC insurance payout is upheld
NEW YORK » A federal appeals court yesterday upheld jury verdicts requiring insurance companies to pay developer Larry Silverstein $4.6 billion to rebuild the World Trade Center complex but preventing him from getting the $7 billion he had sought.
A three-judge panel of the 2nd U.S. Circuit Court of Appeals said it found no error that requires it to set aside jury decisions over insurance payouts on the trade center, which was destroyed by terrorists on Sept. 11, 2001.
---
BUSINESS PULSE