---
FAST FACTS HAWAII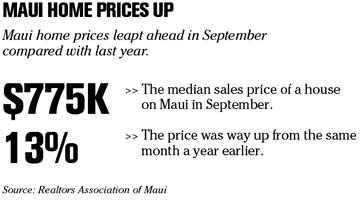 ---
HAWAII
Tesoro resumes gasoline production
Tesoro Corp.
, the operator of one of Hawaii's two oil refineries, resumed gasoline production at its Kapolei refinery yesterday, a spokesman said. Meanwhile,
Chevron Corp.
reported that its Hawaii refinery was undergoing final checks and plans to ramp up production beginning tomorrow.
Chevron spokesman Albert Chee said that there are ample supplies of gasoline in the distribution chain to serve the public.
"We do not see any near-term issues with supplies that consumers would need to be concerned about," he said.
The state's only gasoline-producing refineries were shut down after Sunday's earthquakes and the resulting Oahu-wide power failure.
Cyanotech still not out of rough
Cyanotech Corp.
said yesterday the 1-for-4 reverse stock split it announced last month will take effect on Nov. 3, with shareholders to be paid cash for fractional shares.
The reverse split will boost Cyanotech's shares above $1, eliminating one of the reasons the Kona-based company faces being delisted from the Nasdaq SmallCap Market.
But Cyanotech also faces a possible delisting for failure to file a quarterly financial statement with the Securities and Exchange Commission. Cyanotech has said it has not filed the report because it is conducting an accounting review related to its "historical treatment of certain inventory-related costs." Nasdaq has given the company a Nov. 26 deadline.
The company went before a Nasdaq appeals panel regarding the delisting last week, but the panel's decision has not yet been announced.
[HAWAII INC.]
NEW JOBS
»
Aqua Hotels & Resorts
has hired
LeeAnn Isobe
for the newly created position of marketing and operations manager. She will oversee advertising and collateral production, supervision of media schedules and budgets, daily maintenance of the Web site, management of the company's image library and employee relations. Isobe previously served as senior account executive at
CP Advertising
.
» Atlas Insurance Agency Inc. has hired Steven K. Pang as risk consultant in its risk consulting services department. He will provide safety consultation and training for Atlas construction and general industry clientele. Pang previously served as supervisor of safety and security at Kuakini Medical Center.
» Cowabunga! Computers has hired several employees. Brandon Arakaki has been hired as an onsite technician. He will work with residential clients on updating computers, repairing and performing onsite troubleshooting. He previously worked at Pure Digital Hawaii and is a Roadrunner-certified technician. Vanessa Ishii has been hired as an office administrator. She previously held a similar position for companies in Silicon Valley. Sean Patnode has been hired as an onsite technician. His knowledge of servers and network architecture will allow him to work with select accounts for the state of Hawaii and other commercial accounts. He previously worked at Medtronic and as a system administrator in the medical information technology industry.
>> Alexander & Baldwin Inc. has hired Kevin L. Halloran as director of corporate finance and investor relations. He will be responsible for communication with the investment community and oversight of corporate development activities. Halloran previously served as managing director at Media Venture Partners Inc., through which he had provided business development services to A&B in recent years.
» Cardax Pharmaceuticals Inc. has hired Fredric Pashkow as executive vice president and chief medical officer. He will be responsible for preclinical and clinical development of all cardiovascular compounds as well as compounds targeting other therapeutic areas. Pashkow previously served as vice president, U.S. medical affairs, for Sanofi-Aventis.
» Convergence CT has hired Edwina Lee as vice president, global analytics. She will provide clients with comparative reports to facilitate benchmarking, and highlight areas for improvements in quality of care, operational costs, disease management and health services research. Lee previously served as a vice president and hospital administrator at Hawaii Pacific Health and Straub Clinic and Hospital.
NATION
Intel beats Street's expectations
SAN FRANCISCO » Saying the worst was over,
Intel
reported that its third-quarter profit fell 35 percent as it sought to reverse a slide in its market share. The company's shares rose in after hours trading as the results beat analysts' forecasts.
The report capped a quarter of momentum for Intel, in which the company refreshed its product line, announced plans to lay off more than 10 percent of its work force and began to cut $5 billion in expenses.
Yahoo's sales growth plummets
Yahoo! Inc.
, which trails
Google Inc.
in Internet search, reported a 38 percent drop in third- quarter profit as sales growth fell to the lowest in four years. The company said it began introducing new search advertising software, sending the shares up 4 percent.
Net income declined to $158.5 million, or 11 cents a share, from $253.8 million, or 17 cents, a year earlier, Yahoo said yesterday. Sales excluding revenue passed on to partner sites rose 20 percent to $1.12 billion.
Yahoo's growth was curbed as rival Web sites such as Google, MySpace.com and YouTube.com attracted more advertisers.
Private investors buy the Franklin Mint
PHILADELPHIA »
The Franklin Mint
, once the world's largest maker of collectibles, was sold to private investors for an undisclosed price.
The group led by executives from the Morgan Mint, based in Hicksville, N.Y., made the purchase in August and announced it yesterday. Founded in 1964 by Joseph Segel, who also started QVC Inc., the Franklin Mint is known for its detailed figures and other products featuring celebrities such as Elvis, Princess Diana and Marilyn Monroe.
In other news ...
LOS ANGELES » Eight major markets in California saw home prices decline in September from the same month last year, a real estate research firm said yesterday.
Statewide, the median price paid for new and resale houses and condominiums in September was $466,000, up just 2.4 percent from $455,000 in the year-ago period and down 1.3 percent from August, according to DataQuick Information Systems.
---
BUSINESS PULSE