---
FAST FACTS HAWAII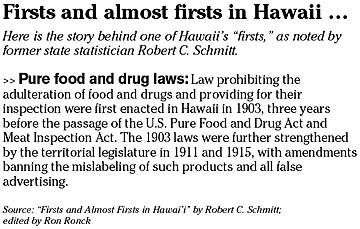 ---
Talk to your kids about how to pay for college
Even as parents help their children prepare for college academically, many of them avoid in-depth discussion about college financing, according to a survey of 400 students and 400 parents by
The First Marblehead Corp.
While 79 percent of students and 85 percent of parents said they've talked about college financing as a family, these discussions don't last even 30 minutes, according to three-fourths of students and 82 percent of parents. Nearly half of each group said that these conversations occur in the car.
"Thoughtful and well-planned dialogue between parents and students is important to identifying the most appropriate financing options and limiting surprises," said Jack Kopnisky, First Marblehead's president and CEO.
Kopnisky gives the following tips for parents:
» Start early: Start the financing discussion as soon as you start talking about your student's academic goals.
» Get informed: Research all financing options and processes before your tuition talk.
» Give it time: Don't rush the discussion. Have enough time to consider all options to find the best one for your family.
» Be honest: Tell your student what you're prepared to spend on college early on so everyone has the same expectations.
How to avoid office party gaffes
As the holidays approach, tread carefully when celebrating in the office, according to one business etiquette expert.
"Many times people don't think about what they say or do in the office," said Barbara Pachter, author of "NewsRulesWork: 79 Etiquette Tips, Tools and Techniques to Get Ahead and Stay Ahead."
Pachter recounted an incident when a pharmaceutical salesman dressed up as the Grim Reaper for Halloween and visited the intensive care unit of a hospital. Nobody found it appropriate.
To avoid such office gaffes, Pachter offers a few guidelines:
» Dress up cautiously: Some companies encourage employees to dress up for Halloween. If you do, make sure your costume is easily removable like a mask or funny hat. You don't want to be the only ninja turtle in the office.
» Celebrate smartly: Before decorating your office or cubicle, check company policies first. Make sure holiday gifts, cards and decorations are tasteful. Most important, avoid too many trips to the bar at office parties.
» Avoid practical jokes: While Halloween and April Fool's Day gags can serve up laughs, you may also offend co-workers and bosses. Keep the shenanigans at home.
Affluent parents stress hard work
To teach their children the value of money, affluent parents stress charity and hard work over material goods, according to a recent study from
American Express Co.
While just over half of children receive a regular allowance -- $7 for children ages 6 to 14 and $21 for those ages 15 to 16 -- 45 percent ages 15 to 17 have part-time jobs. More than two-thirds participate in charitable activities, and 62 percent donate part of their own money to charity.
However, affluent parents still spend more than the average on their children's clothes. Affluent parents spend $53.50 for sneakers compared to the national average of $33.71. They also shell out $42.50 for jeans, compared to the national average of $17.82.
Affluent parents also spend big for special occasions. The average expenditure for both holidays and birthdays was $738 for children ages 6 to 14 and $977 for children ages 15 to 17.
American Express polled 1,170 parents with an average of two children and an average annual household income of $472,000.
---
BUSINESS PULSE