Isle and UH art pioneer also worked for peace
Robert Benjamin Norris / 1910-2006
Robert Benjamin Norris, renowned watercolor painter who built the University of Hawaii art department and transformed the broader art community, died Sept. 12 in Philadelphia. He was 96.
"Ben Norris was instrumental in shaping the course of art in Hawaii," said Lisa Yoshihara, UH Art Gallery director. He helped develop "a contemporary art focus" by inviting acclaimed artists here as professors and visitors, she said.
Norris was a UH art professor for 39 years and chairman of the art department from 1945 to 1955, "making it into a very lively place," said Murray Turnbull, one of the artists brought here by Norris in 1954.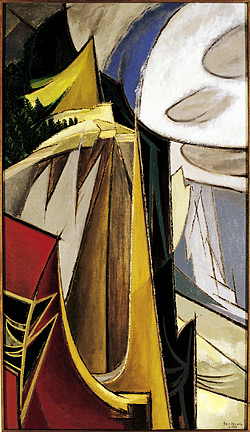 STATE FOUNDATION ON CULTURE AND THE ARTS
Artwork by renowned watercolor painter Robert Benjamin Norris.
Turnbull, who retired from UH in 1985, said Norris "was quite enthusiastic" about developing the art department, bringing in such internationally famous artists as Jean Charlot, Max Ernst, Josef and Annie Albers, and Dorothea Tanning.
Norris, a Quaker, also was known for his work for peace. He was one of the leaders of the anti-Vietnam War movement at UH.
"He was a vibrant presence in our Quaker meeting and was active in peace and social concerns in the community," said Peggy Broderick, clerk of worship and ministry at the Quaker Center, 2426 Oahu St.
Norris' daughter, Maggie Castrey, in a written announcement of his death, said beginning in the 1950s he devoted much of his energy to peace activism, a commitment he kept throughout his life.
"He loved adventure and travel and completed his last around-the-world trip when he was 87, when he helped facilitate Alternatives to Violence workshops."
She said he worked tirelessly on academic and community committees and in the Religious Society of Friends. "He worked and studied in later life to find peace as an 'OK Male,' demonstrating his deep humanity by seeking social justice and self-acceptance for members of the gay, lesbian and bisexual communities," she said.
Even Alzheimer's disease could not destroy his "compassionate and generous heart and an ingrained courtesy," Castrey wrote.
Norris was born in Redlands, Calif., and attended Pomona Colleges, Harvard University and the Sorbonne. He pursued his career as a landscape painter, exhibiting often as part of the California Watercolor School.
He came to Hawaii in 1936 as the first art teacher at the Kamehameha School for Boys and joined UH after a year, staying until he retired in 1976.
A biography of Norris by the Isaacs Art Center, Hawaii Preparatory Academy, said he built "an academic and artistic environment that transformed the city and university campus from a modest art locale to a bustling epicenter of lectures, seminars and activities."
Lois Pan of New York, spending two years as resident at the Quaker Center, said Castrey plans to bring her father's ashes here. A Quaker memorial service will be held at 4 p.m. Feb. 3 at the Quaker Meeting House in Manoa. Instead of flowers, contributions may be sent to the Friends Center Green Building Fund, 1501 Cherry St., Philadelphia, PA 19102.