---
FAST FACTS HAWAII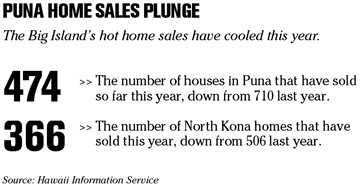 ---
HAWAII
Kapalua Land Co.'s president resigns
Thomas Juliano, president of
Maui Land & Pineapple Co.
's resort subsidiary, resigned yesterday for undisclosed reasons.
Juliano, who had headed Kapalua Land Co. since July 1, 2005, will not be replaced, the parent company said. Kapalua Land Co. oversees Kapalua Resort.
"There may have been philosophical differences, but I'm not aware of the reason he resigned," said Teri Freitas Gorman, spokeswoman for MLP. "It was not part of cost-cutting."
Juliano, who also was executive vice president/resort operations for MLP, has held numerous positions in resort and hospitality operations, including general manager of the Kea Lani Hotel in Wailea, Maui, and vice president of lodging at Vail Resorts Inc. in Colorado.
Gorman said Tom Selby, vice president of finances at Kapalua Resort, will handle Juliano's duties during a transition period.
Barnwell bounces
Barnwell Industries Inc.
topped the Bloomberg Honolulu Star-Bulletin stock index this week, up more than 27 percent to close at $22.01.
Barnwell, which came under pressure this week from its largest shareholder to break up the company, is down more than 12 percent year to date.
Trailing the index this week was Hawaiian Holdings Inc., parent company of Hawaiian Airlines, down nearly 5 percent to close at $4.05. Last week a federal judge denied its request to keep low-cost interisland competitor go! from selling tickets for a year.
NATION
Comair union accepts concessions
CINCINNATI » Comair, the subsidiary of
Delta Air Lines Inc.
, and the union representing its 970 flight attendants said yesterday the two sides have reached a tentative agreement on concessions.
The tentative agreement comes four days after Comair announced that it would impose wage cuts and changes in work rules for the regional airline's flight attendants beginning Nov. 15. Comair has said that it must have the concessions to emerge from bankruptcy protection.
The president of Local 513 of the International Brotherhood of Teamsters said the deal would be for four years, caps health insurance payments and provides financial assistance to the company.
Few people have quake insurance
NEW YORK » Few Americans have invested in earthquake insurance despite the massive damage that quakes can cause, according to a report released yesterday by
A.M. Best Co. Inc.
A.M. Best, an insurance rating agency based in Oldwick, N.J., looked at the earthquakes that caused the greatest damage in the United States. The massive Northridge, Calif., earthquake of 1994, for example, resulted in nearly $18 billion in insured property losses in today's dollars, the report said.
"Yet A.M. Best estimates that only 10 percent to 15 percent of U.S. homeowners have earthquake insurance," the report said.
WORLD
Microsoft changes Vista for EU
BRUSSELS, Belgium »
Microsoft Corp.
is making several key changes to its forthcoming Windows Vista operating system in an attempt to soothe European antitrust worries, while keeping its worldwide distribution plans on schedule.
Brad Smith, Microsoft's general counsel, said yesterday the company agreed to change how people can set their preferred search service if they upgrade to Microsoft's new Internet Explorer browser. The Redmond, Wash., company also has tweaked Vista's security system to address concerns that the system was favoring Microsoft's products over competing security offerings.
In addition, the company plans to have an international standards organization review a controversial new file format that will be included in Windows and the company's Office business suite. He said that was a step toward making the format available for other companies to license.
Even with the changes, which will be included in all versions the company ships worldwide, Microsoft said it still plans deliver the long-delayed Vista to large businesses in November and consumers and small businesses in January.
---
BUSINESS PULSE