| | |
| --- | --- |
| | Newswatch |
---
PICKING UP THE PIECES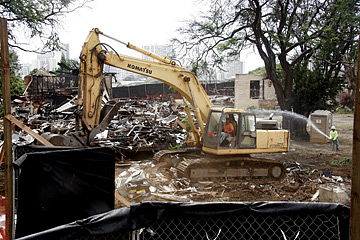 Weekend roadwork will close Aiea route
Construction crews will close Aiea Access Road in both directions from Moanalua Road to Kamehameha Highway starting today at 9 a.m. through Monday at 4:30 a.m. The crews will construct a new concrete road surface, the state Department of Transportation said.
The right lane of Kamehameha Highway from McGrew Point to Salt Lake Boulevard could be closed as well during the same hours.
Drivers should use other routes such as Kahuapaani, Laulima and Honomanu streets and allow for extra travel time.
Mililani library closed for work
Mililani Public Library will close from Oct. 30 through Nov. 18 for renovations to comply with the Americans with Disabilities Act.
The second phase of work will include the installation of energy-efficient light fixtures and ballasts.
The library's book drop will remain open. Customers can either call the library or use the library's Web site, www.librarieshawaii.org, to cancel books on hold or to browse the public library system.
Coming this weekend in your Star-Bulletin:
Saturday
Sports:
The Interscholastic League of Honolulu has the feature football game tonight as No. 1-ranked Punahou plays No. 2 Saint Louis at Aloha Stadium. The winner will have the inside track for the league championship.
Keeping Faith: A $1 million translation project is presenting the Hawaiian Bible as a tool for literacy in the language as well as the source of Christian teaching for the faithful.
Sunday
Today:
Can't make it to the museum? The Bishop Museum, Honolulu Zoo and Honolulu Academy of Arts all offer touring programs that bring a little bit of learning to schools and other community groups.
Business: Cambodia's visitor industry, which makes up one-sixth of the Southeast Asian country's economy, is going through growing pains in the post-conflict era as tourism gains in popularity.
| | |
| --- | --- |
| | Police, Fire, Courts |
---
HONOLULU
Man, 40, arrested in assault with pipe
Police arrested a 40-year-old man Wednesday who allegedly assaulted another man with a metal pipe.
Police said the suspect confronted the 20-year-old victim at University Avenue and Kapiolani Boulevard at about 5:50 p.m. Wednesday.
The victim suffered minor bruises, police said.
The suspect fled, but officers found him nearby and arrested him for investigation of second-degree assault.
Kaneohe man held in attack over debt
A 25-year-old Kaneohe man was charged with robbery yesterday for allegedly trying to collect a debt by threatening and punching a man on Dillingham Boulevard on Aug. 31.
Dayton Francis Ikaika Ishimine was charged with first-degree robbery.
Ishimine allegedly threatened the 22-year-old, punched him and took his money in the 7 p.m. incident, which took place on the roadway.
CENTRAL OAHU
Woman arrested in Mililani forgery
Police arrested a 44-year-old woman who allegedly tried to buy merchandise using a counterfeit $100 bill.
Police said the woman walked into a store in Mililani at about 6 a.m. Wednesday and tried to make the purchase.
Police were called and arrested the woman for investigation of first-degree forgery and third-degree promotion of a dangerous drug.
LEEWARD OAHU
Aiea driver charged in traffic assault
Police charged a 20-year-old Aiea man yesterday with allegedly using a baseball bat to threaten three teenagers sitting in a car. He also allegedly punched the driver.
Police said that between 6:45 and 7 a.m. Tuesday, Joseph Galiki Jr. got out of his car while sitting in traffic along Kamehameha Highway in Pearl City and approached another car.
Holding the bat, Galiki punched the teenage driver through an open window, police said, then threatened him and two others, ages 14 and 15, who were also in the car.
Police said the older teen was driving the younger ones to school.
Police said Galiki fled but was later found at his workplace and arrested.
He was charged with first-degree terroristic threatening and unauthorized entry into a motor vehicle.
Police arrest 5 in Pearl City attack
Police arrested five Pearl City men yesterday after they allegedly attacked two other men with metal pipes, wooden sticks and rocks at a Pearl City home.
Police said the suspects, ages 21, 25, 28, 35 and 37, had gotten in an argument with the victims.
They were arrested on suspicion of second-degree assault after they were identified.
The victims, ages 23 and 26, received minor injuries in the 8:30 a.m. attack, police said.