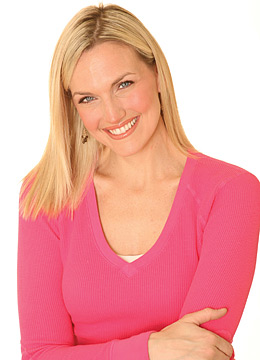 HGTV
Designer Monica Pedersen hosts "Designed to Sell."
Real estate shows 'Designed to Sell' draws well
It's an understatement to say that real estate shows are popular with HGTV fans. Take a look at the network's Top 10 and you'll notice that half are about the buying and selling of real estate: "House Hunters," "Designed to Sell," "Buy Me," "House Hunters International" and "National Open House."
"Designed to Sell" helps sellers whip their homes into tip-top shape before their property hits the market. The half-hour show airs at 8 p.m. and midnight weekdays and has become so hot -- and its design team so busy -- that other teams have been added to help out. Joining the original design crew from L.A. are two based out of Chicago and Washington, D.C.
Designer Monica Pedersen is so busy she doesn't have time to think about what teams L.A. or Washington are doing -- though she would like to give thanks to the crew that started it all. "If they hadn't done their jobs so well, I wouldn't have a job," said Pedersen, via phone from Chicago. "It's a great job and I've met the nicest, nicest people."
Though 35 shows are in the can featuring her team, only about five have aired as the new teams are slowly added to the mix. Though the permanently perky designer is just that upbeat, she's said the "perma-grin" she wears in currently broadcast episodes is a result of shot nerves: The shows were filmed last August, when the cast was brand new and working 14-hour days. The very first episode is the one that stands out most in Pedersen's memory.
"The shows are going to start rolling out more quickly (but) you never forget the first one -- we had decided to change five areas in the home instead of the typical three. But also, Chicago in August means 100-degree weather. We were so dehydrated we were throwing up in the bathroom from the heat."
Filming resumed this August. "Things are so much better now than they were last year," said Pedersen. "We spent so much time together, so it's good we like each other -- originally we were at people's houses from the crack of dawn until midnight and we would be back the next day. There would be shots of the homeowners painting, but our team would be in the background on our hands and knees whispering and painting the baseboards, just to get things done."
What a difference a year makes. "Now everything is pulling together. We now do two shows a month, so there's more time to plan and shop. The second season is more personality-based, too."
Though a change in location from L.A. to Chicago means a different look and a price change in real estate, there are new challenges to be considered, too. "We cover a 30-mile radius of Chicago, but some of us live far away. If there's a bad snowstorm, it might take the crew four hours to get home and we're back to work the next day. There should be a show about working behind the scenes."
Look for a special from the "Designed to Sell" crews: All three branches will be featured in "Hard to Sell"; the design teams help homeowners whose property has been on the market six months or more. The special airs at 8 p.m. Oct. 23 to 27.