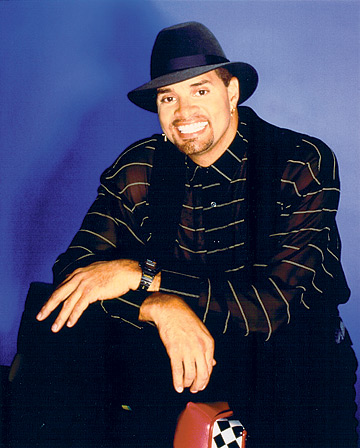 COURTESY LAUGH FACTORY HAWAII
The comedian, appearing on Oahu on Saturday, has a lot in the works for 2007
IT'S BEEN quite a wild ride for David Atkins since he showed up as a finalist on "Star Search" in the late '80s.
SINBAD
On stage: 7:30 p.m. Saturday
Place: Blaisdell Concert Hall
Tickets: $40 and $50
Call: (877) 750-4400 or visit www.ticketmaster.com
Better known to audiences as Sinbad, this larger-than-life comedian parlayed his seven appearances on the televised talent show into a long-running Hollywood career and has even written a book about his experiences -- "Sinbad's Guide to Life (Because I Know Everything)." Along with many guest appearances and co-starring roles, he's also served as host of "Late Night at the Apollo" and the talk show "Vibe."
Sinbad spoke with the Star-Bulletin earlier this week via telephone from Maui, where he was preparing for a private performance and a few days of relaxation before his show on Oahu.
---
QUESTION: Is this your first time performing in Hawaii?
ANSWER: No, I've been here before. We're talking about the early '90s, now. When I used to come to Hawaii, starting in '88, I would come once or twice a year. I just love being in Hawaii.
---
Q: You're celebrating a birthday next month. How has getting older affected your stand-up comedy routine?
A: Well, the way it works is not so much age. Comedy isn't like basketball, where your knees go out. With comedy, the only thing that changes is the perspective of the world. As far as being funny, I'm just as funny as I ever was, maybe even funnier, because you just get better with age.
Luckily, I've got young people still coming out to watch me. I've got my son and daughter who keep me hip to everything, so I stay abreast of what's going on. The comedy is always going to be there, but I think for me, my best acting is about to come. I haven't done the things I wanna do, acting-wise.
---
Q: You mention that your kids are getting older. Do they still factor into the material you use in your routine?
A: I used that stuff for material all the time, but then they've got their private life. They're at that cool age (where) you can only reveal so much. So now it's more about ... how stupid life is right now. You don't really need to write much, because there's so much dumb stuff going on in the world right now.
---
Q: And you're also looking into making more movies?
A: I've always been geared toward the big screen. I've never not wanted to do that. It was always my main reason to come out to L.A.
Comedy is the easy thing; it's what makes me who I am. But maybe because of my style of comedy ... Hollywood never knew what to do with me.
---
Q: Does that mean we'll see you in flicks like "Coneheads," "Houseguest" or "Jingle All the Way" in the future?
A: Well, I've started writing again. My daughter, who's 21 now, she made me start. So I sat down ... and we're just shaking the dust off some stuff and writing some new things.
This next year in 2007, we're also looking at putting another TV show together. I call this "The Last Run." We're gonna give it one more run.
---
Q: Do you have any projects in production?
A: There was an independent film that I was in. ... It was a small role. My daughter was in (the film). There was one called "Cutting the Mustard," and another one's called "Greekshow." Mainly, I just wanted to work with my daughter. So it was fun.
---
Q: You were the host of "Vibe" for a hot minute back in the '90s. What was it like having your own talk show?
A: It was cool. I actually did it as a favor to Quincy Jones, because I never really wanted to do a talk show. I've got ADD, so I don't think I can sit that long. I have to move, man!
But the best part ... was that I got to meet a lot of the cats I wanted to meet in the business. It was like having a private conversation in your living room. So that was kind of cool.
---
Q: Besides "Vibe," you also hosted "Showtime at the Apollo," and even returned to that show in 2005. Why did you go back?
A: Actually, I went back because Mo'Nique had twins. So I came in to substitute while she was gonna get her baby thing together.
What was unique about that was, I did Apollo back in 1988, so a lot of the kids in the audience were the kids of the people I was performing for back in the day. I didn't know how it was gonna be ... but from day one, it was off the hook.
---
Q: What else is in the immediate future for you?
A: I'm hosting one of those hidden-camera shows for this group out of Montreal, but I'm going to be doing something else a little later. Next fall, we're looking at doing a straight-up sitcom. It's gonna be a mixture of "Entourage" and "Curb Your Enthusiasm."
Very shortly, you'll be seeing a lot of me. The foundation of the house is being put down -- 2007 is gonna be a big year.