STYLE FILE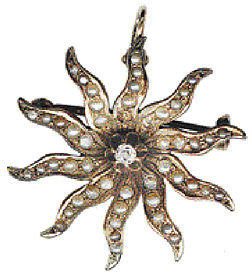 This antique brooch was among last year's finds.
Estate pieces up for grabs
More than 1,000 pieces of jewelry will be available for purchase at the Arcadia Jewelry Sale, taking place 10 a.m. to 2 p.m. Saturday in the Women's Building at Central Union Church.
Proceeds will be used to provide services for patients in the nursing facility at Arcadia Retirement Residence.
Much of the estate jewelry -- featuring diamonds, pearls, rubies, coral, jade and more -- was willed to Arcadia by former residents, with pieces priced from $2 to $4,000.
In addition to jewelry, there will be a special section for watches.
Parking on the church grounds will be free.