---
FAST FACTS HAWAII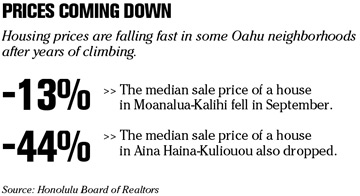 ---
HAWAII
Hawaiian Airlines fills fewer seats
Marking a continued decline in the percentage of seats the isle carrier is filling,
Hawaiian Airlines
' load factor in September dropped 6 percentage points to 83.1 percent from 89.1 percent during the same month last year.
For the past several months, Hawaiian has faced increased competition from Mesa Air Group's start-up interisland carrier, go! However, the load factor numbers do not necessarily reflect the effects of this competition because Hawaiian reports combined numbers for its trans-Pacific and interisland flights and does not disclose the interisland data separately.
Mesa's Hawaii unit also has seen its load factor fall since it began service. It reported a 66 percent load factor for September, versus 74 percent in July, its first full month of operation. Aloha Airlines does not report its load factor.
On assignment
Erika Engle is on assignment. TheBuzz will return tomorrow.
HAWAII INC.
NEW JOBS
>>
Earl Greenia
has been hired as assistant administrator/chief operating officer for Kona Community Hospital and Kohala Hospital, Hawaii Health Systems Corp.'s West Hawaii region. He will assist the regional CEO,
Donald Lewis
, with daily operations of both hospitals. Greenia previously served as associate administrator for Lakewood Regional Hospital and Medical Center in California.
» New York Life Insurance Co. has hired Jonathan Nakamoto as an agent for the company's Honolulu general office. He will help families work to protect their financial futures.
» Outrigger Embassy Suites -- Waikiki Beach Walk has announced new members of its management team. Lori Ortiz, newly named assistant general manager-back of house, will oversee the hotel's housekeeping department while assisting with overall hotel operations. Daniel Nakasone, assistant general manager-front of house, will direct management of the front office, bell and PBX departments while assisting with overall hotel operations. Mark Burson, assistant general manager-food and beverage, will be responsible for day-to-day operations of all food and beverage operations at the hotel, in addition to assisting with other hotel operations as needed. Reuben Nakagawa, chief engineer, will be responsible for the day-to-day maintenance and engineering operations of the new hotel. Colleen Tanioka, human resources manager, will be responsible for all aspects of the hotel's human resources activities. Carol Kahili, executive housekeeper, will be responsible for the cleanliness and upkeep of the hotel. Sandra Sakka, controller, will oversee the property's financial aspects.
» Aqua Engineers Inc. has hired Eassie Miller as president and CEO. He will be responsible for running the company and its subsidiaries. He will also be responsible for transitioning the company from four-person ownership to an employee-owned organization. Miller previously managed the Honolulu office of Brown and Caldwell.
» The Cancer Research Center of Hawaii has hired Cecilia Kramer as development director. Kramer brings more than 15 years of experience in communications and fund development, and previously served as a senior development manager at United Cerebral Palsy in Washington, D.C.
» Doris Duke Foundation for Islamic Art has hired Amy Landau as curator of Shangri La. She will be responsible for the research, interpretation and display of the estate's collection, which includes more than 2,500 pieces of art. She will also oversee the development of an interdisciplinary program to enhance the state's role as a place for education, scholarly research and exchange. Landau previously served as a research assistant to the chief curator at the Smithsonian's Freer Gallery of Art and Arthur M. Sackler Gallery.
>> First Insurance Company of Hawaii has hired George Turner as manager of its bond department. His knowledge of underwriting and marketing surety bonds will greatly enhance the customer experience. He previously served as the Northern California representative of Old Republic Surety Co.
» Cox Radio has hired Michol Klabo as general sales manager of KCCN FM100. She previously served as general sales manager at Salem Media of Hawaii for the past year and worked for the past eight years at Clear Channel in South Florida in a variety of sales management positions. Before moving to Florida, Klabo spent many years in broadcast sales and management in Honolulu radio stations.
---
NATION
3 plead not guilty in HP affair
SAN JOSE, Calif. » Three private investigators who allegedly obtained confidential telephone records as part of
Hewlett-Packard Co.
's boardroom spying probe pleaded not guilty yesterday to identity theft and other felony charges.
Ronald DeLia of Massachusetts-based Security Outsourcing Solutions Inc., Matthew DePante of Florida-based Action Research Group Inc., and Bryan Wagner of Colorado were arraigned in Santa Clara County Superior Court. Each was later booked and released on personal recognizance.
DeLia, DePante and Wagner are among five people criminally charged last week for their roles in the spying scandal at the computer and printer giant. Former HP Chairwoman Patricia Dunn surrendered and appeared in court late last week. The company's ousted ethics chief Kevin Hunsaker turned himself in and was released.
Microsoft releases fixes for flaws
SEATTLE »
Microsoft Corp.
released six patches yesterday to fix software flaws that carry its highest threat rating, including three for defects that attackers were already trying to exploit.
The company said all six of the critical flaws could allow an attacker to obtain some access to other people's computers.
The Redmond, Wash., software maker also released four other patches to fix vulnerabilities that the company deemed less severe.
Customers can download all the patches for free on Microsoft's security Web site and also can sign up to have them automatically delivered to their computers. The automatic update system went down for several hours yesterday, but the problem was later resolved.
---
BUSINESS PULSE