---
FAST FACTS HAWAII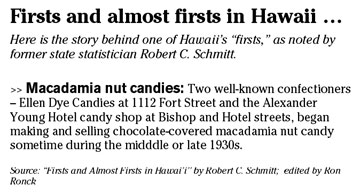 ---
NATION


Companies focused on 'personalization'

Companies are responding to consumers' on-demand expectations by focusing more on marketing strategies, according to a recent survey from

Weber Shandwick

, a public relations firm.

Eight out of 10 CEOs and chief marketing officerssaid there's a tighter collaboration between product development and marketing, while almost three-fourths reported that marketing is more involved in research and development.

But what does this mean for consumers? They'll have more control over what products and services companies will offer, said Billee Howard, a co-director of Weber Shandwick's global strategic media group.

"Consumers are 100 percent in the driving seat," Howard said. "Companies are now a part of customers' lifestyles and have a better understanding of their culture."

Co-director Jen Risi pointed out how consumer input drove Casual Male Retail Group Inc. to move away from the store name Casual Male Big & Tall, which consumers associated with being overweight, to the hipper, more athletic Casual Male XL.

"The focus is now on personalization and customization," Risi said.

Weber Shandwick polled 100 CEOs and chief marketing officers at the Fortune 2000 for the survey.
Play games helps productivity?
Taking a break by playing online solitaire? More than half of your co-workers log onto game sites, too, according to a recent poll.
Candystand.com, an entertainment Web site owned by the Wm. Wrigley Jr. Co., surveyed 1,000 adults nationwide and found that more than half play online games during the workday. The average playing time was 15 minutes.
More than six out of 10 said that playing online games help them deal with stress, while 47 percent said it helps their creative thinking.
One in five have been caught by their supervisors, while 13 percent admitted playing during a conference call.
Playing games may improve job productivity. Dr. Kathleen Hall, founder of The Stress Institute, recommended in a separate study that people play computer games for 10 to 15 minutes to refresh.
"People today spend so much time at work that it's not surprising they take a couple of minutes throughout the day to decompress," said Scott Tannen, director of digital marketing at Wm. Wrigley Jr.
Austin is 'most impatient' city
Tired of waiting in lines or sitting in traffic? Move to the Texas capital, which was named "America's most impatient city" by eBay Express.
In a study of the top 20 American cities, Austin, Texas topped the list of cities with the most time-saving services. The city has the highest per capita "in and out" gyms, quick-copy centers and quick-change oil services. Additionally, the city is building a toll road around the city that only accepts electronic tolls.
The Ebay Express study assessed a city's "impatience" by the number of convenience-oriented services on a per-capita basis. Services included convenience stores, one-hour cleaners, Wi-Fi hot spots and speed dating services among others.
Two other Texas cities broke into the top five. Houston ranked third and Dallas tied with Baltimore and Jacksonville, Fla. for fifth place.
Indianapolis came in second, while San Francisco ranked fourth, defying the West Coast reputation for being laid-back.
Despite fast walking and rumored rude behavior, New Yorkers aren't too impatient. The Big Apple sauntered in at No. 19. Los Angeles shuffled in at No. 17.
---
BUSINESS PULSE