| | |
| --- | --- |
| | Newswatch |
---
Register to vote by tomorrow
Tomorrow is the deadline to register to vote in the Nov. 7 general election. Forms must be turned in to the appropriate county clerk's office or postmarked by midnight. Wikiwiki voter registration forms are available at all post offices, public libraries, county clerk's offices, the phone book Yellow Pages and most state agencies. The form can also be downloaded at
www.hawaii.gov/elections
. Registered voters who have changed their name or moved since the last election should re-register.
---
[ FROM THE ART DEPARTMENT ]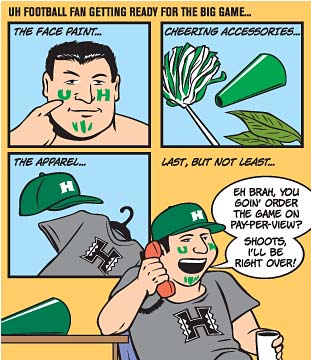 | | |
| --- | --- |
| | Police, Fire, Courts |
---
HONOLULU
Mo-ped driver in critical condition after crash A 40-year-old man was critically injured in a mo-ped accident with a pickup truck yesterday shortly after 2 p.m., police said.
The man was driving a 1987 Honda scooter south on Olomea Street near Iao Lane when it was hit by a 1997 Dodge Ram pickup switching lanes.
Paramedics took the victim to the Queen's Medical Center in extremely critical condition, said Bryan Cheplic, city emergency services spokesperson. A 44-year-old woman also riding the moped suffered minor injuries.
Police arrested the 53-year-old driver of the truck for negligent injury, and also found the mo-ped was reported stolen.
Liliha arson damage estimated at $316,000
Fire investigators are estimating that a fire at a Liliha Street home early Thursday caused $316,000 in damages.
The fire, which investigators said was deliberately set, gutted the single-story wooden house and displaced two adults and three children.
Damage was estimated at $195,000 to the house, plus about $121,000 to five other homes and two vehicles in the area, said Capt. Kenison Tejada, spokesman for the Honolulu Fire Department.
Police have released few details in the case, citing the ongoing investigation.
A separate fire Thursday morning on Waiomea Street in Honokai Hale caused an estimated $65,000 damage, Tejada said. Two people suffered burns and were admitted to Straub Clinic and Hospital.
NEIGHBOR ISLANDS
Maui driver in critical condition after crash A single-car crash on Kula Highway early yesterday morning sent a 23-year-old Maui man to the hospital in critical condition.
Maui police said a white 2005 Ford Ranger driven by Mitchell Sarol-Silva lost control on the highway near Lower Kula Road and crashed into a speed-limit sign and the mauka shoulder at about 3:31 a.m. The Ranger overturned and Sarol-Silva was ejected, police said.
Sarol-Silva was last reported in "critical life-threatening condition," according to a police news release.
Police seek man in campus robbery
Big Island police are looking for a man that robbed an office at Hawaii Community College with a handgun Friday.
Police said the man entered an office on the campus, brandished the handgun and demanded money. He fled on foot with an undisclosed amount of cash toward Kawili Street heading to Kanoelehua Avenue.
Witnesses described him as in his early 20s, 5 feet 8 inches tall, 130 to 140 pounds, slim, tanned complexion, with short, dark hair and a thin mustache.
Anyone with information is asked to call Detective Richard Sherlock at 961-2379 or Crime Stoppers at 961-8300 or 329-8181.
EAST OAHU
Kaimuki house fire begins near grill A Kaimuki fire yesterday that caused $30,000 in damage started near where the family was hibachi grilling, said Honolulu Fire Department spokesman Capt. Gary Lum.
The fire department received the call at 2:01 p.m. for the two-alarm fire at 3518 Alohea Ave., a single-family home, and extinguished the fire by 2:34 p.m.
Korean visitor rescued from near-drowning
A 58-year-old woman tourist nearly drowned at Hanauma Bay on Friday, officials said.
The visitor from Korea was pulled from the water shortly before 11 a.m. Friday and given CPR by lifeguard personnel, who were able to revive her, said Bryan Cheplic, city emergency services spokesperson.
The woman was reported in critical condition yesterday.
WAIKIKI
Man arrested in knife attack on bar bouncer A 24-year-old man was arrested early yesterday morning after attacking a bar bouncer with a knife.
Police said that at about 1:20 a.m., a 34-year-old man allegedly approached the 26-year-old bouncer at Arnold's Beach Bar and Grill in Waikiki, and attacked him with a knife.
Police arrived to find the suspect being detained by bar patrons. The man was arrested for second-degree assault.