Roadwork convergence to bring motorists misery
Lanes will be closed on many key Honolulu routes
Monday would be a good day for Honolulu commuters to start heading for work early.
People who use Kapiolani Boulevard as a route to work face lane closures and slowed traffic for the duration of the two-year Water and Sewer System Improvement Project.
Meeting will boost Blaisdell traffic
The public should expect traffic to be heavy between 6:30 and 9 a.m. Monday in the Blaisdell Center area due to the Hawaii State Teachers Association conference.

Parking at the Blaisdell will be restricted to event attendees and monthly pass holders, the city said in a news release. No daily parking will be allowed.

The Kapiolani Boulevard gates will be open from 6:30 a.m. for easier access. For more information, contact Diamond Parking at 592-7275.
Some Kapiolani lanes near Kamakee and Pensacola streets will be closed 24 hours a day starting today for the Board of Water Supply project.
Contra-flow lanes that usually ease town-bound traffic on Kapiolani Boulevard will end at McCully Street starting Monday.
There will be no longer be afternoon outbound contra-flow lanes.
Elsewhere, city road projects on major thoroughfares though Honolulu will bring lane closures on westbound South Beretania Street downtown and on eastbound South King Street in Moiliili.
"We are trying to minimize the disruption, although you might not think so when you're sitting in traffic," said Mark Matsunaga of the city Department of Customer Services. "These are things that were put off previously, and now we're paying the price of the deferral of that work."
Work will be done on both water lines and the sewer system rather than prolonging the disruption with consecutive projects, he said. The $29.2 million project will extend from Ward Avenue to Kalakaua Avenue and include sewer work on Kamakee, Atkinson and Kalakaua as well as Kapiolani.
The contractor will make use of new technology, installing flexible liner that expands inside existing sewer pipes and cures in place, Matsunaga said. Much of the installation work can be done through manholes rather than requiring street trenches to be dug.
---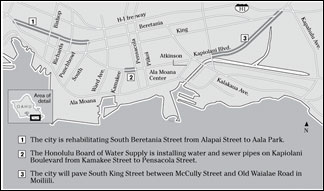 ---
The water pipes to be replaced date back to the 1930s. Matsunaga said there have been six water main breaks under Kapiolani in the past two years.
The sewer system dates to the 1920s. Matsunaga said. "If we don't do this, there's the risk of a huge sewage spill. It's inconvenient, but these things have to be done."
The Kapiolani project will be suspended during the holiday shopping season, from Nov. 22 though Jan. 13. Information is available at www.kapiolani- watersewer.org.
Two other cross-town routes will have lane closures during roadway rehabilitation projects that involve removing existing asphalt and rebuilding the roadway, rebuilding sidewalks, new concrete bus lanes and curb ramps and upgrades to drainage.
Lanes on Beretania Street will be closed between Alapai Street through downtown to the North King Street intersection near Aala Park. Most of the work will be done from 8:30 a.m. to 3:30 p.m. Mondays through Fridays with some weekend work. The $10 million, 12-month project started in mid-September.
Night paving work will begin tomorrow on South King Street between McCully Street and Old Waialae Road, which is the route to an eastbound H-1 freeway onramp.
Paving will be done between 8 p.m. and 5 a.m. Sunday nights through Friday mornings to minimize disruption, according to the city release. Parking will be prohibited on King Street in the areas being paved each night.
The Moiliili work is expected to take nine weeks. It is part of a $4.2 million project that also includes work on streets in Aina Haina and Niu Valley.
"We apologize for the inconvenience this construction will create for motorists and pedestrians, but this work has to be done," said Mayor Mufi Hannemann in a news release. "It's part of our war on potholes after deferred maintenance by the previous administration. We literally have miles to go to catch up."
Information on the road projects can be found at www.honolulu.gov.