| | |
| --- | --- |
| | Wood Craft |
---
Mayor gives Tori Richard family much to cheer about
Mayor
Mufi Hannemann
gave the Tori Richard ohana more to cheer about at the firm's 50th anniversary dinner party Thursday by proclaiming it Tori Richard Day and challenging any elected official to top him in having more T.R. shirts than he does.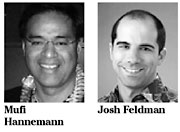 He said he always takes them on trips and is constantly asked about them. After leaving the stage, the mayor spotted Macy's smartly dressed Regional Vice President
Deena Nichols
and said, "I buy my shirts at Macy's." Chef-restaurateur
Sam Choy
obviously has a taste for fashion as he wears T.R. shirts and was in the audience. T.R. CEO and President
Josh Feldman
, son of the company's late cofounder
Mort Feldman
, welcomed the guests. He said the firm was founded on the premise of putting art to fabric.
Philana Bouvier's
fine fashion show, with models wearing vintage T.R. women's clothing and beachwear and the firm's 2007 collection, was a highlight. The 200 guests at the Hawaii State Art Museum event each received a copy of
Jocelyn Fujii's
book, "Tori Richard: The First Fifty Years." Jocelyn wore a beautiful red and white T.R. vintage halter dress. She said her dad had a shirt with the same pattern. Music was by the versatile
Jerome James Band
. Food was by Indigo's
Glenn Chu
...
Tony Tennille will be Matt Catingub's guest on his radio show tomorrow, 8 to 8:30 a.m., on KHVH. The Matt Catingub Orchestra of Hawaii releases an album, "Return to Romance," Oct. 17. Jimmy Borges, Na Leo, Kealii Reichel, Amy Hanaialii Gilliom and Raitea Helm sing on the CD ...
Helen Altonn surprised with second honor
Star-Bulletin reporter
Helen Altonn
knew she was going to receive a Healthy Mothers Healthy Babies Coalition of Hawaii President's Award at yesterday's luncheon at the Prince Hotel, but she didn't know she was also being recognized by the State Senate. The Senate proclamation, in listing the many awards Helen has won in her 51-year Star-Bulletin career, also said: "She has interviewed movie stars like
Gregory Peck
and
Katherine Hepburn
and chatted with President
Lyndon Johnson
and future President
Richard Nixon
." HMHB exec director
Nancy Partika
praised Helen, saying she is an expert at handling stories and is a "great role model" ...
Ben Wood
, who sold the Star-Bulletin in the streets of downtown Honolulu during World War II, writes of people, places and things in our Hawaii. E-mail him at
bwood@starbulletin.com