---
FAST FACTS HAWAII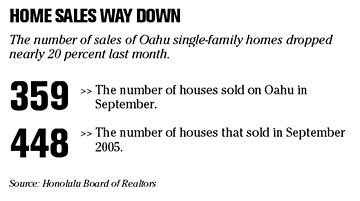 ---
NATION


Ex-director has grave reservations about GM

Kirk Kerkorian rocked

General Motors Corp.

yesterday when his top deputy, Jerry York, quit the GM board and raised "grave reservations" about the company's ability to compete against Asian automakers.

The billionaire investor also sent GM's stock into a free fall by dropping plans to boost his 9.9 percent ownership stake in protest of GM's decision this week to reject an alliance with Renault SA and Nissan Motor Co.

The moves appear to be the first volleys in an all-out battle for control of GM between Kerkorian and GM Chairman Rick Wagoner and his board of directors.

Wall Street reacted nervously to the news, sending GM shares plunging $2.08 -- more than 6 percent -- to close at $31.05 in trading on the New York Stock Exchange.
Pilot shortage cancels NWA flights, union says
Northwest Airlines Corp.
, the second-largest U.S. carrier in bankruptcy protection, has canceled some flights because of a shortage of pilots, its pilots union said.
Representatives from the Northwest chapter of the Air Line Pilots Association met with company managers this week to address "many" cancellations on flights of Northwest's 105 DC- 9s, according to a message posted yesterday on the union's Web site.
"This is caused by several factors, including unwise management decisions," the union said in the message. "We expect management to move quickly to address these staffing issues." The union didn't say how many cancellations occurred.
Northwest is recalling some of its 700 furloughed pilots as it works toward exiting bankruptcy protection by the middle of next year. A Northwest spokesman didn't have an immediate comment on the union's statement.
Robust job growth coming to an end
The Labor Department reported yesterday that employment grew by just 51,000 jobs in September, adding slack job growth to the emerging tableau of an economy gradually slowed by higher interest rates, expensive energy and a sputtering housing sector.
In the last three years, the American economy has added about 6 million jobs. Unemployment, which dipped to 4.6 percent last month, has fallen to the lowest point since early 2001. And in recent months, the wages of ordinary workers have finally started to increase enough to slightly outpace inflation.
But the new government data, said Joseph LaVorgna, chief U.S. economist at Deutsche Bank, suggests that "the best news on job creation is behind us."
Goodyear strike enters day No. 2
AKRON, Ohio » The strike against
Goodyear Tire & Rubber Co.
entered its second day yesterday with union workers determined to press their demands after accepting concessions three years ago that they say were critical to the tire maker's successful turnaround.
More than 12,000 Goodyear workers walked off the job Thursday after months of disagreement between the company and the United Steelworkers union.
In 2003, the union agreed to allow the company to cut some 6,000 jobs including closing a plant in Alabama, as well as trim pay, health care and pension benefits.
Enron exec will not do hard time
HOUSTON » Former Enron executive Paula Rieker was sentenced yesterday to two years probation instead of the decade she faced in prison, becoming the second official of the failed energy giant in as many weeks to be shown leniency in exchange for cooperation in the case.
Prosecutors asked U.S. District Judge Melinda Harmon to give Rieker, the former corporate secretary and No. 2 executive in the investor relations department, a reduced sentence for insider trading because of her help in the Enron investigation.
"A two-year term of probation is appropriate," Harmon said, crediting Rieker for helping prosecutors in their probe and volunteering in her community since her arrest.
A federal judge last week reduced the prison time for former chief financial officer Andrew Fastow from 10 years to six.
Microsoft cancels on New Orleans
NEW ORLEANS » Lack of airline flights in and out of New Orleans prompted
Microsoft Corp.
to cancel three meetings expected to bring a total of more than 30,000 people to New Orleans next year.
They had been planned as the first meetings in New Orleans since Hurricane Katrina for Redmond, Wash.-based Microsoft, which has held several worldwide events bringing thousands of people to the city since 2002.
Microsoft spokeswoman Robyn Kratzer confirmed to the Associated Press that the company was forced to cancel the planned events because they thought it would be too difficult to transport thousands of attendees, including some international travelers, in and out of the city.
WORLD


Bid declined for Singapore casino

SINGAPORE »

Harrah's Entertainment Inc.

, the world's largest casino operator, and Singapore's

Keppel Land

announced yesterday they would not be submitting their joint bid for the nation's second casino resort despite three months of planning a proposal.

Bids for the Sentosa Island integrated resort are due Tuesday.




---
BUSINESS PULSE