Komo Mai rockfall work to last 4 months
Work to stabilize or demolish rock outcroppings over a portion of Komo Mai Drive in Pearl City began this week, the state Department of Land and Natural Resources announced yesterday.
Prometheus Construction is the contractor for the $1.3 million project, which is expected to last until February, a department release said.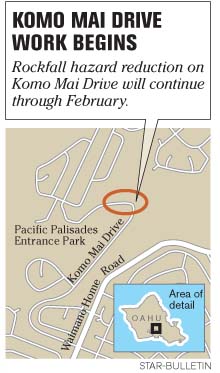 "This case is made even more urgent because the rockfall hazard poses the additional risk of severing the only artery providing access to and from the Pacific Palisades community and stranding hundreds of families," Director Peter Young said in the release.
Work to reduce rockfall hazard will include installation of a 220-foot-long, 10-foot-high rockfall protection fence and a wire mesh system draped over a 66,600-square-foot area.
The wire mesh will have electrical grounding protection as a safety precaution in case an overhead electrical cable were to fall and touch it, the release said.
"While the state lacks sufficient resources to address all rockfall hazards across the state, when informed of specific situations that pose a danger to the public's safety, we will, and do seek to mitigate that hazard in the most prudent manner possible," Young said in the release.
"The Komo Mai situation is a clear example of that commitment to protect the public from the unreasonable risk of serious injury or harm from hazardous conditions existing on state lands."
The Legislature has approved funds for the project, Young said.
The contractor will strive to reduce traffic problems on Komo Mai Drive by using warning signs, police officers and traffic control measures, the release said. There might be some temporary closure of shoulder/walkway areas.
"We ask the community's patience during this temporary period of inconvenience as we work to complete this safety protection project as soon as possible," Young said.