HiLIFE
Hawaiian opera
An innovative work blends traditional hula and Hawaiian lyrics with numerous dance and musical styles
Peter Rockford Espiritu, artistic director of the Tau Dance Theater, isn't afraid to explore elements of traditional Hawaiian culture with expansive cross-cultural productions.
'Naupaka -- a Hawaiian love story'
Presented by the Tau Dance Theater

On stage: 8 p.m. Saturday

Place: Leeward Community College Theatre

Tickets: $25; $21 for students, seniors and military

Call: 455-0385 or go online at www.lcctheatre.hawaii.edu
In 2003 he combined American modern dance with hula to create "Hanau Ka Moku: An Island Is Born," a three-act show created to welcome -- in perhaps another 50,000 years -- the arrival of the next Hawaiian island, Lo'ihi.
On Saturday, Espiritu presents the world premiere of what appears to be the world's first three-act Hawaiian-language opera, "Naupaka -- A Hawaiian Love Story," at Leeward Community College Theatre.
Espiritu is calling the production an opera because he hasn't found another term that fully describes it. "It is in that grand scale of opera (but) is so much more than that. One wants to meld and cross genres, and tell a traditional Hawaiian myth or legend by using cross-genre forms, and we do use opera in some sense, but it's very hard to explain where we go with it. The main focus is telling the story."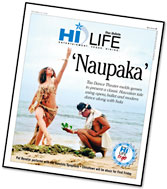 The "Naupaka" story is certainly in keeping with the classic European opera theme of a couple forced apart by society, fate or their own bad choices. The Hawaiian story, though, was inspired by a native plant. The naupaka's flower looks as though it was split in two, and from that comes the story of lovers forced to separate -- each took a half of a blossom, then parted forever. From that day on, so the story goes, the naupaka has commemorated the tragedy by blooming flowers that appear torn in half.
Vocalist Kala'i Stern stars in the title role of a commoner whose lowly birth makes him an inappropriate suitor to the alii wahine 'Ohikimakoloa. Kamakoa Page and Starr Kalahiki share the role of 'Ohikimakoloa -- Page portrays her in dance; Kalahiki provides her voice. Other members of the cast include Terence Knapp (Kiakahi) and Jonathan Sypert (Kupu'eu).
Espiritu has collected "at least 30" variations of the tragic tale, and knows that there are more. In some versions the lovers are mo'o (lizards) or hula dancers; in some the woman's name is Naupaka. Others involve Pele in the story.
Espiritu serves as director, choreographer and librettist on the production, John Signor is the composer and musical director, and the costumes are by Puamana Crabbe. The Hawaiian lyrics and poetry -- all three acts of it -- are by Puakea Nogelmeier.
Espiritu is telling the story through a broad range of dance forms that include ballet, modern dance, jazz and hip-hop, as well as hula and pohuli, a new hybrid that draws on hula traditions. "These are modern creations that are created specifically for this production," Espiritu says of his pohuli numbers.
"Some of the text comes from 'Hawaiian Antiquities,' David Malo's book, so they are old, but other than that, all the songs and all the chants, everything we do, is new."
Signor's score also is new. He also composed the music for "Hanau Ka Moku."
Espiritu says the cross-cultural elements are important to make the show representative of contemporary Hawaiian culture. "My whole goal is to have something that represents us now for later (generations). I love the traditional stuff. I study it, but I really feel that if we do not keep creating works that represent us now, we will have nothing to look back on."
And so, he says, "You put a male chanter against a mezzo-soprano, or a falsetto singer against a contralto -- I really see the beauty in the juxtaposition of it all, having the Hawaiian language being sung operatic style to a tango, or the using of a flamenco guitarist. That is really what the Tau Dance Theater is about, taking a respectful approach to traditional things and bringing it to the 21st century."
It can be dangerous to claim to be the "first" to do something in Hawaiian music or hula, but the historic record appears to be on Espiritu's side.
Two somewhat similar shows were produced in Hawaii in the 1920s, but neither had a new full-length score, and neither was performed entirely in Hawaiian. "Pele and Lohiau," presented at the Hawaii Theatre in 1925, was a hodge-podge of chants, hapa-haole songs, pop hits and arias from European operas. "The Prince of Hawaii," presented at the Liberty Theatre three weeks later, set an original story to songs by Charles E. King, but few were written specifically for the show.
Barring the discovery of another three-act Hawaiian-language musical, "Naupaka" is indeed the first.
Espiritu cautions that bringing Hawaiian culture forward with Western technology and performance styles must always include respect for the past.
"We need people to be responsible and respectful. We don't need people to 'make any kine' and that's the difference. ... I don't expect this to be the ultimate version of 'Naupaka,' but it is the latest and the most deeply delving version of the story, and people will never look at 'Naupaka' the same. I take that responsibility very seriously."