Downtown office vacancy falls to 7%
Available full-floor spaces are disappearing, and many companies are still hunting for them
The downtown Honolulu office vacancy rate got even tighter in the third quarter of this year, according to two local real estate firms.
PM Realty Group places the Class A downtown vacancy rate below 7 percent, calling it "the starting point of an unhealthy level of vacancy." Jamie Brown, president of Hawaii Commercial Real Estate, places it at 7.1 percent.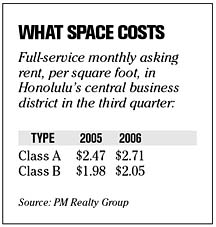 That means office tenants in downtown Honolulu are faced with limited supply and increasing rents.
PM Realty put the full-service asking rent for Class A office space at $2.71 per square foot per month, a 9.6 percent increase over the last quarter of 2005. Hawaii Commercial Real Estate places it at between $2.64 to $2.87 per square foot per month.
Full-floor spaces, in particular, are difficult to find in downtown Honolulu, according to Jeff Nasrallah, project manager of PM Realty Group, which counted only nine in downtown Honolulu.
But they are growing in demand, because many companies are consolidating their operations and prefer an entire floor.
"Because there are so few full floors out there, landlords are asking above the average rate," Nasrallah said.
The availability of Class A downtown full-floor spaces has shrunk by 47 percent, according to PM Realty Group. Landlords, meanwhile, are expected to ask for a 5 percent to 10 percent premium for full-floor spaces next year.
Brown said the market may be tight for tenants seeking larger office spaces, but plenty of smaller spaces are still available.
He estimated there were only seven spaces measuring more than 10,000 square feet in the downtown Honolulu office inventory.
"The news is not all bad for tenants," he said. "We still have 116 vacancies less than 10,000 square feet. If you are a tenant needing 4,000 square feet or less, you still have plenty of choices."
PM Realty Group counted 17 Class A and 12 Class B offices in downtown Honolulu in its report. HCRE counted 13 Class A buildings downtown in its report.
Rent growth is not yet at the level necessary to motivate developers into building new offices, but some developers say that may happen in the next two years.