---
FAST FACTS HAWAII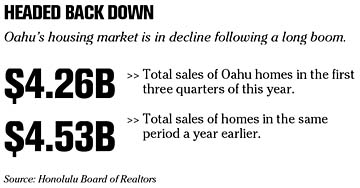 ---
NATION & WORLD
Wal-Mart lowers sales estimate NEW YORK » Blaming a computer error, Wal-Mart Stores Inc. lowered its September sales estimate again yesterday. The news prompted analysts to speculate about what happened at the world's largest retailer when other merchants are expected to report higher sales amid cooling temperatures and easing gasoline prices.
Wal-Mart reduced its sales estimate to 1.3 percent from 1.8 percent on Saturday. The discounter originally forecast sales at stores open at least a year in a range of 1 percent to 3 percent.
Wal-Mart said yesterday it revised the figure because it "incorrectly coded" 235 Wal-Mart stores and Sam's Club warehouse stores in calculating comparable sales for the five weeks comprising the September period. It said that total sales will not be affected.
Wal-Mart blamed the shortfall in September on difficult comparisons with the year-ago period, when same-store sales surged 3.8 percent on a buying spree related to Hurricane Katrina.
HP chairwoman charged by AG
SAN FRANCISCO »
Hewlett-Packard
's former chairwoman was among five people charged yesterday with illegally gathering phone records of board members, journalists and others in an effort to find the source of news leaks.
The felony charges, filed by the California attorney general's office, are the first stemming from a spying operation that ended last spring but came to light a month ago in disclosures by a disgruntled former director.
The case has rocked the company, forcing out HP chairwoman, Patricia C. Dunn, along with the company's general counsel, a second director and two other senior officials. A House subcommittee conducted hearings on the case last week, and federal prosecutors have also been considering charges.
FDA can't endorse nanotech yet
The U.S. Food and Drug Administration isn't prepared to ensure the safety of products made with nanotechnology, the emerging science that uses materials the size of molecules or atoms, a former agency official said in a report.
The FDA lacks funding and regulatory power to adequately oversee nanotechnology and may miss possible safety problems or spot them too late to prevent harm, said Michael R. Taylor, a professor at the University of Maryland School of Medicine and a former deputy commissioner of the FDA, in a report today.
Skilling pays $385 over arrest
HOUSTON » Former Enron Chief Executive Officer Jeffrey Skilling has pleaded no contest to settle his recent arrest for public intoxication in Dallas and paid $385 for a fine and court costs, according to municipal court records examined by a newspaper.
Skilling, convicted in May of 19 counts of fraud, conspiracy, insider trading and lying to auditors in the investigation following the company's 2001 collapse, was arrested in a ritzy area of shops and restaurants north of downtown Dallas.
Investigation targets State Farm workers
State Farm Mutual Automobile Insurance Co.
, the largest U.S. home and auto insurer, said at least two employees who worked on Hurricane Katrina claims in Mississippi are targets of a criminal probe.
Alexis King and Lisa Wachter are being investigated by Mississippi Attorney General Jim Hood, and a third employee, Mark Drain, is expected to be subpoenaed by a federal grand jury, State Farm said yesterday in court filings in a related civil suit. Hood said in April he was probing whether insurers improperly denied claims by pressuring engineering firms to change damage reports.
India, China, Russia are the most corrupt
BRUSSELS, Belgium » Anti-corruption advocates yesterday called on the governments of India, China and Russia to do more to stop their multinational companies from bribing when doing business abroad.
A survey of 30 of the world's leading exporting countries ranked the three countries at the bottom, with India the worst offender. Switzerland topped the ranking of the Bribe Payers Index 2006.
Officials from the anti-corruption group Transparency International urged the governments of the three fast emerging economies to take a more active role in cleaning up the business practices of their companies.
In other news ...
»
Starbucks Corp.
shares soared yesterday, even before the company announced September sales growth figures that trounced Wall Street estimates, and that it had opened more than 2,000 new stores in its latest fiscal year.
---
BUSINESS PULSE