Developer fights for time
Some Aina Haina residents oppose condos on a hillside where rocks and soil have slipped
An Aina Haina developer has asked the city to delay its decision on a building permit on a controversial project, giving him, the city and residents more time to examine its potential impact.
Kent Untermann, owner of L&K Investments LLC, submitted a request to waive this Monday's deadline facing the city to decide on issuing a building permit.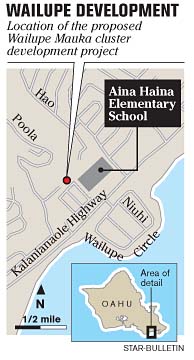 Nearby residents are worried his plans to build a 15-unit condominium would further destabilize an area known for soil movement and falling rocks. Untermann said he made the request yesterday to give both sides more time to reach a compromise.
The city Department of Planning and Permitting has until Monday, a deadline set by the land use ordinance, to grant the building permit. Planning and Permitting Director Henry Eng said he had yet to see the extension request, but indicated it would probably be granted.
The permit would allow Untermann to build his proposed Wailupe Mauka condominium project, nestled on a slope behind Aina Haina Elementary School.
Several area residents held a news conference on Kiai Place, the road leading into the proposed construction site, and aired their concerns.
The residents group, called Aina Haina Hui, stated that the city had paid about $6.7 million to nearby residents in 1994 because cracks in a sewer line hastened the slippage of homes. Yesterday, the residents said Untermann's development would only aggravate the slippage.
"If the houses start sliding, will the city buy them out, too?" asked Darryl Ching, a former Aina Haina resident before his family's land was bought out after slippage. Ching added it would be a waste of taxpayer money.
Aura Hayakawa, an area resident of 14 years, said her home's foundation had to be reinforced because of slippage.
"There has been a lot of erosion already," said Panalea Place resident Hayakawa.
Aina Haina Hui spokesman Phil Manly said the residents are not against development in general, just the scope of Untermann's proposed plans.
"This particular project presents multiple problems with unknown outcomes," said Manly, adding the city is not holding public hearings for the development. "We hope that the city will learn from past experiences."
Permitting Director Eng said because it is not a rezoning issue, there is no public process.
"We're cognizant about what's happened in the past," Eng said. "We're still studying the project and we haven't made a decision. But the fact that he is applying for a request to waive the deadline allows us to consider other things."
Untermann said he will continue to meet with community leaders in hopes of reaching an understanding. Untermann said a 2,000-square-foot unit would sell for about $1 million.
"There are hillside issues in Aina Haina, and many of these residents have issues because their foundations are on clay," said Untermann, who will not be withdrawing his permit request. "We are proposing to build on rock."