---
FAST FACTS HAWAII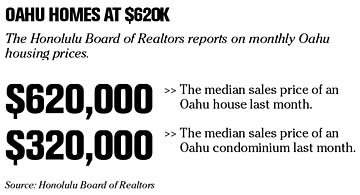 ---
HAWAII
Telcom offers its first bundled packages Hawaiian Telcom plans today to begin offering bundled packages of telecommunications services at discounted rates. The so-called bundled packages include one providing unlimited local and long-distance calls and dedicated high-speed Internet service for $65.95 per month with no long-term contract required.
The move marks the first time Hawaiian Telcom has offered the bundled products, which executives have said are key to the company's long-term growth strategy.
Hawaii investors buy UH bonds
Hawaii investors purchased nearly $10 million of last week's $130 million bond offering by the University of Hawaii, said Howard Todo, chief financial officer for the school.
The Sept. 28 offering was a refinancing aimed at reducing debt service on a portion of bonds issued in 2002 to fund the John A. Burns School of Medicine. The Series 2006A bonds, with a net interest cost of 4.41 percent, will generate about $8.3 million in savings on debt service, Todo said. The older bonds were at 5.15 percent.
Daiei readies to become Donki
The Daiei store on Kaheka Street closed its doors yesterday at 10 p.m. to complete its transformation into a Don Quijote.
A grand opening ceremony will be held for the new Don Quijote store at 9 a.m. on Friday.
Tokyo-based discount retailer Don Quijote Co. bought Hawaii's four Daiei Inc. stores in February, with plans to remake the Kaheka Street store first. Other Daiei stores on Oahu are in Pearl City, Waipahu and Kailua.
Changes to the Kaheka store are expected to include a new display format and an expansion of merchandise, along with exterior changes.
---
[ HAWAII INC. ]
NEW JOBS
» Fairmont Hotels & Resorts has hired
Aulani Kealoha
as director of leisure sales for the Fairmont Kea Lani, Maui. She previously served as sales manager for Four Seasons Resort Hualalai on the Big Island, and received the manager of the quarter award twice.
» The Honolulu Council of the U.S. Navy League has hired Peter Selvig as office manager. He has more than 13 years of nonprofit organization experience. He previously served St. Andrew's Priory School for Girls and the Hawaii chapter of the Juvenile Diabetes Research Foundation International.
» Positive Coaching Alliance has hired Stacy Matsuda as area coordinator for Positive Coaching Hawaii. He will help expand and position the alliance's training to fulfill a state mandate for character education in high schools. Matsuda has an extensive background in coaching youth sports, sales management and business development, including more than 21 years as regional sales manager for Panasonic.
» Starwood Hotels & Resorts Hawaii has hired Angela Rodriguez as regional communications coordinator. She will assist in the coordination of regional public relations, advertising and promotional efforts for the company's 11 properties in Hawaii, as well as four Tahiti properties. Rodriguez previously served as a loan officer for Countrywide Home Loans in the Hawaii, California and Utah division.
» Aloha Street has hired Eiji Okabe as customer relations account executive. He will be responsible for strengthening client relationships while cultivating and tapping into a new market of clientele. Okabe previously worked in the hotel industry in Japan and China and as a graphic designer in Washington, D.C.
» Harry and David Operations Corp. has hired Mike Osorio as senior vice president and general manager, stores. He will be responsible for driving sales in the company's stores division. Osorio previously served DFS Group Ltd. as managing director for Hawaii and North America.
» Island Air has hired Sandra Reno as director of human resources. She will be responsible for the development and oversight of the HR department and all matters relating to employment, benefits and personnel issues. Reno previously served as senior human resources business partner at Bombardier Aerospace in Tuscon, Ariz.
PROMOTIONS
»
Finance Factors
has promoted
Benson Choo
to vice president and information protection manager. He will be responsible for ensuring the company's information security, while supporting business initiatives. Choo previously served as the company's information protection manager.
» Kaanapali Golf Courses has promoted Kendric Kimizuka to head golf professional from first assistant gold professional. His additional management responsibilities include staffing, scheduling and training of new employees. He will assist in spearheading new golfer development programs, including junior golf, and will indirectly support renovation efforts at the golf facility.
---
BUSINESS PULSE