---
FAST FACTS HAWAII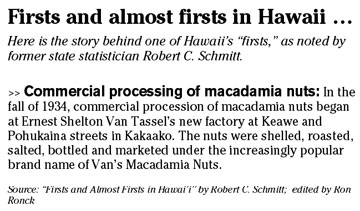 ---
U.S. executives less optimistic
Senior financial executives are growing less optimistic about the U.S. economy and their own businesses, a survey found.
Fifty-nine percent of the chief financial officers and controllers polled by Grant Thornton LLP said growth will be unchanged this year, and 13 percent expected an improvement. In March, 39 percent forecast growth would be unchanged, and 51 percent projected an improvement.
Fifty-five percent said they will continue to hire at the same level as earlier in the year, and 29 percent said they plan to boost hiring. In March, 51 percent said they would increase hiring.
About half of the respondents in the latest survey said their company's financial prospects will remain the same the rest of this year, and 37 percent predicted an improvement.
Executives were more optimistic about costs. Forty-seven percent forecast inflation will increase the rest of this year, compared with 58 percent in March.
Young workers like their music
Younger workers are more likely to don their headphones while sitting in their offices than their older counterparts, according to a study from
Spherion Corp.
Nearly half of adults ages 25 to 29 said they listen to their iPod, MP3 player or other personal music device while working, whereas only 22 percent of adults ages 50 to 64 claim to do so. Overall, almost one-third of all workers listen to music at the office.
While allowing personal music devices may make many employees happy, employers should set ground rules first, according to Nancy Halverson, vice president of talent development at Spherion.
For example, ask workers to keep volume levels low so that they can easily interact with other co-workers and hear telephones and fire alarms.
Spherion polled 1,613 employed adults ages 18 and older during August.
Insiders biggest security threat
While most companies spend millions of dollars securing their networks from outside threats, nearly 80 percent of all damage comes from within an organization,
InfoTech
has found.
But a few simple precautions can keep your computer from causing a security breach.
Matti Kon, InfoTech's president and CEO, offers the following tips:
» Don't keep your password on a sticky note at your desk and make sure your password isn't related to you. The best password is seven characters long with punctuation and numbers.
» Secure your handheld device with a password. If you lose it and you don't have a password, then anyone can access your information.
» Make sure to install an automatic timed lock on your computer, so no one can use it while you're away from your desk.
» Don't give your password over the phone.
---
BUSINESS PULSE