| | |
| --- | --- |
| | Wood Craft |
---
Ariston Green lands 'Lost' role as one of 'The Others'
Local Boy
Ariston GREEN
has landed a role of "Jason," one of "The Others," on "Lost." Ariston is the son of high-profile attorney
Michael Green
and the former
Estralita Ortiz
, a local actress who had roles in "Hawaii," Elvis' "Blue Hawaii" and other pictures calling for attractive island women. Ariston, 31, is a UH theater graduate and a UH Lab School grad. He will be in the fourth and fifth episodes this season. Michael says Ariston gets his acting talent from Estralita. However, those who know Mike know he has put on many a winning performance in a courtroom ...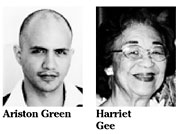 Former Mayor Frank Fasi will be guest of honor when Ballet Hawaii marks its 30th year Oct. 14 with its "Black, White and Haute Ball: An Evening at the Moulin Rouge" in Hilton's Tapa Ballroom. Frank founded the Honolulu City Ballet in 1976, and the company evolved into Ballet Hawaii. The silent auction starts at 6 p.m. with trips to France and Australia and much more up for bid. Dinner and a show produced by Jim Hutchinson will follow. Mary Gutzi, Kevin Bailey and Kit Samson's Sound Advice, with singers Marlene Baldueza and Al Romero, will perform. Tickets start at $250 each; call Ballet Hawaii at 521-8600 ...
Harriet Gee marks 80 with family and friends
Harriet Gee
, who spent almost 40 years as a Star-Bulletin reporter before retiring in 1992, celebrated her 80th birthday Sunday at Royal Garden Chinese Restaurant. The party was thrown by her daughters
Linda
and
Pat Gee
and
Debbie Lee
. Pat is a Bulletin reporter. Veteran Star-Bulletin employees
Helen Altonn, Mary Adamski, June Watanabe
and
Richard Borreca
attended. Others there were her Dim Sum Club members:
Jim
and
Betty Becker, Roy
and
Betsy Essoyan, Chuck
and
Helga Frankel
and
Dee Smyser
, all of whom have had Star-Bulletin connections ... Former isle resident
Jean Dickinson
and her guy
Reggie Sully
flew into town from L.A. last weekend to do some work on her apartment prior to a new renter moving in. While here, they held a construction-themed party with tools and warning signs scattered about. Guests at the shindig included
Rick Ralston, Robyn Schaefer, Tom Sofos
and
Margaret Murchie
...
Ben Wood
, who sold the Star-Bulletin in the streets of downtown Honolulu during World War II, writes of people, places and things in our Hawaii. E-mail him at
bwood@starbulletin.com