The Bloomberg /
Star-Bulletin Index
---
Mera bounces up
Mera Pharmaceuticals Inc.
topped the Bloomberg Honolulu Star-Bulletin stock index this week with a 12.5 percent increase that far outstripped the other gainers for the week.
But even that couldn't quite lift Mera to full-fledged penny stock status, leaving its price at 0.9 cents a share. In the year to date the company is down nearly 44 percent; over the last 12 months it is down 62.5 percent.
Barnwell Industries Inc. came in second with a 2.63 percent gain for the week, closing at $19.50 a share.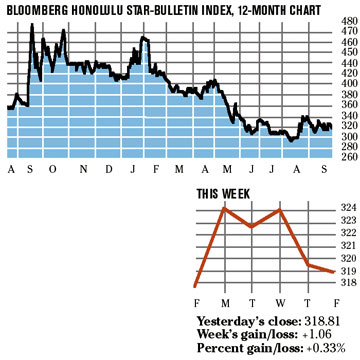 The Bloomberg / Star-Bulletin Index is a price-weighted index designed to measure the performance of Hawaii-based companies. The index was developed with a base value of 100 as of December 31, 1999. A chart of the index which shows the weekly performance of its members is published weekly in the Honolulu Star-Bulletin.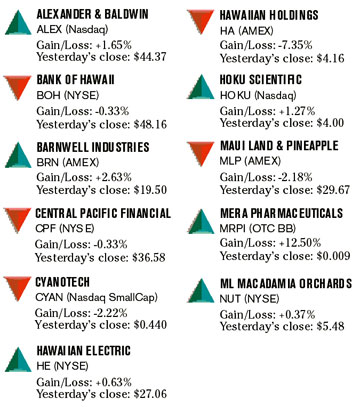 SOURCE: BLOOMBERG NEWS / STAR-BULLETIN GRAPHIC