---
FAST FACTS HAWAII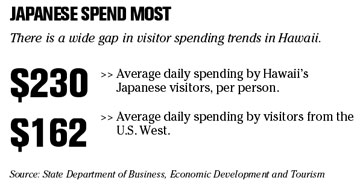 ---
HAWAII
Atlantic Marine wins $17M Matson contract
Matson Navigation Co.
has signed a $17 million contract with
Atlantic Marine Alabama LLC
to perform work related to the conversion of Matson's MV Mokihana containership to a combination roll-on/roll-off and container vessel.
The conversion of the Mokihana, which will increase Matson's roll-on/roll-off capacity in its Hawaii service by 35 percent, is part of a previously announced $45 million Matson upgrade. The converted Mokihana will join Matson's two other combination roll-on/roll-off containerships, the SS Lurline and the SS Matsonia.
Work will begin in April at Atlantic Marine's shipyard in Alabama, with delivery scheduled for June.
The modified vessel, which will have all the features of a dedicated car carrier, will have a fully enclosed garage, ventilation, lighting and various safety components to minimize damage in transit.
NATION
Congress targets online gambling
Congress passed legislation today that curbs financial payments from banks to offshore Internet casinos that are illegal under U.S. law.
"Basically we are shutting down the payment system for Internet gambling," said U.S. Rep. James Leach, an Iowa Republican. "It is has an enormous effect."
The measure, added to unrelated legislation providing $3.4 billion for U.S. port security, makes it unlawful for credit-card companies to collect payments for transactions with online-gaming sites. Congress passed the port security plan before recessing to campaign for the Nov. 7 elections.
Gambling on the Internet is a $12 billion-a-year business that is growing rapidly offshore. Internet-based casinos such as PartyGaming Plc and 888 Holdings Plc, operating in locations such as Gibraltar and Antigua, take in billions from U.S. gamblers.
Baptist fraudsters get prison time
PHOENIX » Two former executives with the Baptist Foundation of Arizona were sentenced to prison yesterday and ordered to repay hundreds of millions of dollars for defrauding investors in a botched financial scheme that bankrupted the non-profit organization.
Former foundation President William Crotts, 61, was sentenced to eight years in prison and former general counsel Thomas Grabinski, 46, was sentenced to six years in prison on fraud and racketeering charges. They were convicted earlier this summer.
Maricopa County Superior Court Judge Kenneth Fields also ordered them to repay $159 million apiece.
California bans 'pretexting' to get telephone records
SACRAMENTO » A new California law will make it illegal to obtain telephone records by fraud or deceit, a practice that gained notoriety in recent weeks from the spying scandal at
Hewlett-Packard Corp.
Detectives hired by the Palo Alto-based company impersonated Hewlett Packard directors and journalists -- a practice known as "pretexting" -- to obtain their telephone records as part an investigation of corporate leaks.
Legislation outlawing the practice was signed yesterday by Gov. Arnold Schwarzenegger. It takes effect Jan. 1.
State Sen. Joe Simitian introduced the bill more than a year ago, when there was little public knowledge of, or interest in, the problem.
"It didn't really cause a ripple," the Democrat from Palo Alto said in a telephone interview.
Gambling exec cleared to return to London
NEW YORK » A judge cleared a former British betting-company executive to return to London yesterday after New York's governor declined to sign a warrant extraditing him to Louisiana, where he is charged with illegal online gambling.
Peter Dicks, the former chairman of Sportingbet PLC, was arrested at Kennedy International Airport on Sept. 6 after customs officials discovered that he was wanted by Louisiana state police. Dicks is not charged with any crime in New York. Eight U.S. states have laws prohibiting Internet gambling: Washington, Nevada, Illinois, Indiana, Louisiana, South Dakota, Michigan and Oregon.
3 board members leaving J. Crew Group Inc.
NEW YORK » Preppy fashion retailer
J. Crew Group Inc.
, which went public on June 28, said yesterday that three of its directors -- including its co-founder -- are leaving the company's board.
Emily Scott and Thomas Scott are resigning for personal reasons, effective Dec. 2.
Bridget Ryan Berman, a director since August 2005, is leaving the board to become chief executive of the U.S. subsidiary of Giorgio Armani SPA, effective Dec. 26.
WORLD
Airbus would make traffic worse
PARIS » A study by global aviation officials has concluded that the A380 superjumbo jet made by
Airbus
could slow traffic at already heavily congested airports, a development that could cast another shadow over the European plane maker's flagship project.
The news came as the chief executive of Airbus, Christian Streiff, met yesterday with board members of his parent company in Amsterdam, Netherlands, to discuss the A380 and plot a new course for the struggling Airbus operation.
Production of the A380 is more than a year behind schedule as a result of wiring problems and factory bottlenecks. There is no new timetable for the plane.
In the new report, aviation authorities concluded that aircraft taking off or landing behind an A380 would have to wait longer than is currently the case for any other aircraft in service, including Boeing's 747.
---
BUSINESS PULSE