Tales from the tavern
A proprietor recounts the glory days of his San Francisco saloon
THE NEIGHBORHOOD tavern, according to legend, was once a place of comfort and good food and neighborly cheer, as well as a place to practice 12-ounce curls whilst leavened by peer pressure to behave yourself. But then came topless dancers ...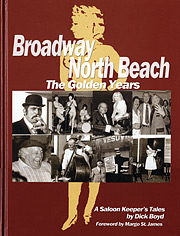 "Broadway North Beach -- The Golden Years, A Saloon Keeper's Tales"
By Dick Boyd (self-published); $29.95
That sea change in society is covered in the new book "Broadway North Beach -- The Golden Years, A Saloon Keeper's Tales" by Dick Boyd. Boyd was once one of the proprietors of the famous Pierre's in San Francisco, across from City Lights bookstore, in a neighborhood once known for its lively and insular restaurant scene and now mostly remembered for its tawdry strip joints.
Boyd now lives in Hawaii, and once ran a restaurant here known as -- you guessed it -- Boyd's.
"Dave Donnelly, at your newspaper, was always in my places and he became a great friend," says Boyd, a born raconteur. "He once came out to San Francisco and said, 'Let's go up to Napa wine country.' We started drinking on Friday. And Saturday. And wound up drinking at the North Star on Powell, and I went, 'Dave, I gotta go home.' He began cheering: 'I knew I could do it! I outdrank Dick Boyd!' "
Boyd shook his head. "Dave Donnelly was one competitive guy."
The book is full of such entertaining anecdotes about larger-than-life characters, as well as a scrapbook of pictures of the era, mainly in the 1960s. But you get the feeling that running a restaurant is a highly chancy business, dependent on public whim and pop culture as much as good food and entertainment.
"When we opened Pierre's, it was a matter of getting pupus that broke da mout," recalls Boyd. "And we wanted something different. So we set up little hibachis everywhere and bought the absolute best meat we could find and cooked it right on the spot. Sounds good, right? Didn't work."
They also tried stunts like snail races, with the snails cooked up afterward as escargot. The bottom line, it turned out, was simple: "Good entertainment and good food geared for families, at an affordable price. That simple. A nice place. A place where patrons don't get killed."
Boyd and his crew aimed for "gals from the San Francisco financial district, and wound up as a hangout for '49ers football players. We were a sports bar before anyone had even thought of putting a TV in a bar."
Boyd's in Honolulu specialized in lunch, salad and a bowl of soup, as well as "a place where guys from First Hawaiian could come in for their noon alcohol fix."
IF YOU SUSPECT that bars put out salty stuff to encourage people to orders drinks, you're right, said Boyd. But even at its height, Pierre's only had six brands of beer by the bottle. ("I'm a bottle baby, no cans in my restaurants!") And that's because it isn't the booze, it's the company that makes a tavern work.
Good bartenders and friendly waitresses are invaluable. Pierre's first waitress was Margo St. James, who later became a fiery mouthpiece for Bay Area sex workers, but at the time was a memorable waitress who helped design the decor.
Even then, the accent was on salty.
"That's the key. Pretzels. Nuts. We had big popcorn popper that patrons could just go up to and refill their bowls. We were the only guys to try hibachis, but they didn't work. Most of the well-known San Francisco bars had kitchens but didn't use them. The thing was entertainment, Gay '90s groups, singalongs, banjo bands ..."
And then it all went bust. Literally.
"Three days after Rudi Gernrich premiered the topless swimsuit -- June 17, 1964 -- San Francisco had the first topless dancer. The restaurant row had a couple of strip joints at the far end, but most places were taverns where you could take your family. Anyway, there's this girl on stage in a topless swimsuit, being watched by a half-dozen guys from the police department, trying to figure out what to do. They think they insisted on pasties, but the suit straps kept flinging the pasties off."
Before long, nearly every bar in the area featured topless dancers. It became so competitive that barkers for the front doors were hired to convince patrons to come in, as if they were at a carnival.
"By then, even popcorn didn't matter. Patrons were only there to see the action, and the whole tone changed. My partner and I were like Boy Scouts compared to these guys. Later, hookers started working the area, but that was after my time."
Boyd paused.
"It was the audience that killed it. Nude dancing was supposed to be the golden egg, but the golden egg turned out to be a turd."
---
--
Dick Boyd's self-published memoir is $29.95, available at BestSellers or Borders Ala Moana, or by contacting Boyd at 922-8077 or
dickbo9@aol.com
.