---
FAST FACTS HAWAII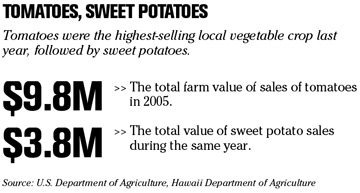 ---
HAWAII
Jetstar offers Sydney one-way fares at $313
Jetstar Airways
, which plans to begin Australia-Honolulu service in December, announced yesterday a special introductory fare on its Sydney and Melbourne routes.
The low-cost carrier is offering one-way tickets of $313 to Sydney and $337 to Melbourne. The prices exclude applicable taxes and fees of about $17.
The fares will be available until Tuesday, or until it sells out. The travel period is from Feb. 1, 2007, through March 31, 2007. Jetstar will fly three times a week from Sydney beginning Dec. 27 and twice a week from Melbourne beginning Dec. 29. The airline initially will use Airbus A330-200s before transitioning to Boeing 787s in 2008.
For more information, go to www.jetstar.com or call 1-866-397-8170.
Horizon matches drop in surcharge
Horizon Lines Inc.
, the second-largest ocean shipper serving Hawaii, said yesterday it would lower its fuel surcharge to 19.75 percent from 21.25 percent beginning Monday.
The decrease follows a similar reduction by its largest competitor, Matson Navigation Co., which announced last Thursday it was cutting its fuel surcharge to 19.75 percent starting Sunday.
Horizon said a downward trend in fuel costs prompted the move and that it will continue to monitor fuel costs and adjust the fuel surcharge as trends warrant.
---
[HAWAII INC.]
NEW HIRES
»
American Savings Bank
has hired
Dean Hirabayashi
as commercial real estate loan officer, bringing more than 21 years of banking and commercial real estate experience. Hirabayshi previously served as project manager for
A&B Properties.
» The state Division of Consumer Advocacy has named Catherine Awakuni as executive director. She will oversee the division's representation of consumer interests before the Hawaii Public Utilities Commission and other local and federal agencies. Awakuni has been serving as commission counsel with the PUC since 2002.
» Peter Vincent & Associates has hired Nicole Hillyard as an architectural designer and model maker. She will be responsible for developing and heading the new Peter Vincent model shop. Hillyard has more than three years of design experience.
» Rehabilitation Hospital of the Pacific has hired Dr. Gary A. Okamoto as senior vice president and chief medical executive. He will be responsible for both the business and clinical aspects of the hospital's inpatient and outpatient divisions. Okamoto recently retired as president and chief executive officer of Queen's Health Systems and brings 27 years of experience as a rehabilitation specialist.
» Stryker Weiner & Yokota has hired Carrie Carlin as an account executive for the corporate and public affairs division. She will service several clients including Grace Pacific Corp., the Pacific Resource Partnership and the Queen's Health Systems. Carlin previously served as the corporate communications executive at the Italian Chamber of Commerce and Industry in Sydney, Australia.
» Hyatt Regency Maui Resort and Spa has hired Nicholas Abruscato as senior food and beverage director. He previously served as food and beverage director for Hyatt Regency Chesapeake Bay in Cambridge, Md.
» Kona Community Hospital has hired Pat Kalua as chief nurse executive. Her primary responsibilities are to provide executive leadership and management of nursing services at the hospital. Kalua previously served as vice president of nursing for St. Francis Medical Center in Honolulu.
» Mauna Lani Bay Hotel & Bungalows has announced several new hires. Hylton Chu has been appointed director of revenue management. Chu previously served as director of revenue management for the Sir Francis Drake Hotel in San Francisco. Ben Takahashi has been appointed executive sous chef. He previously served as executive chef at the Sheraton Keauhou Bay Resort & Spa. Mark Ley has been appointed travel industry sales manager. He previously served as the resort's recreation and grill manager.
» The Queen's Medical Center has announced the following new hires for its hospitalist program: Dr. Yoshio Inoue, Dr. Mai-Linh Frascarelli, Dr. Eric Lee and Dr. Jane Kim.
---
NATION
Health costs outpace inflation
The cost of living keeps going up, but the cost of healthy living is going up even faster.
A widely followed national survey reported yesterday that the cost of employee health care coverage rose 7.7 percent this year, more than double the overall inflation rate and well ahead of the increase in the incomes of workers.
The 7.7 percent increase was the lowest since 1999. But the average cost to employees continued an upward trend, reaching $2,973 annually for family coverage out of a total cost of $11,481.
Since 2000, the cost of family coverage has risen 87 percent while consumer prices are up 18 percent and the pay of workers has increased 20 percent, the survey noted. That is without counting the cost of deductibles and other out-of-pocket payments, which have also been rising.
Sharper Image ousts chief exec
SAN FRANCISCO » Struggling specialty retailer
Sharper Image Corp.
announced yesterday the ouster of its founder Richard Thalheimer, replacing its chief executive of the past 28 years with Jerry Levin, a member of a dissident investor group that had threatened to seize control six months ago.
Sharper Image's board voted to remove Thalheimer as chairman and CEO in a meeting Monday, according to a person familiar with the matter. The person didn't want to be identified because the board's deliberations are considered confidential.
---
BUSINESS PULSE