---
FAST FACTS HAWAII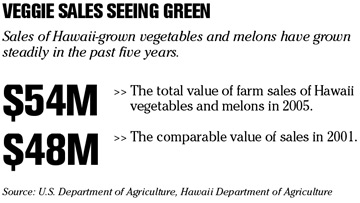 ---
HAWAII
KGMB signs with CBS for 10 more years
KGMB-TV has signed a 10-year affiliation agreement with CBS network, more than three times the duration of the previous agreement.
"We've always been a CBS affiliate, so we wanted a 10-year situation this time," said Rick Blangiardi, senior vice president and general manager.
KGMB is Hawaii's oldest television station, signing on the air in 1952. It has been a CBS affiliate since 1954. The new agreement provides a strong link between the station's legacy and its future, Blangiardi said.
"We are making every effort to restore KGMB9 as the market leader in Hawaii and our alignment with the strength of the programs on CBS in prime time, news and sports is key, going forward," he said.
Hawaii Biotech wins SBA award
The U.S. Small Business Administration has tapped
Hawaii Biotech Inc.
as a winner of its 2006 Tibbetts Award for innovation, marking the third time the Aiea-based startup has been selected for the recognition.
Dr. Leonard Firestone, CEO of Hawaii Biotech, will receive the award on behalf of the company today at an awards ceremony in Washington, D.C. Hawaii Biotech has gained international recognition for its work developing vaccines to protect against emerging infectious diseases, including seasonal and avian influenza, West Nile encephalitis and dengue fever.
NATION
Tobacco suit gets class-action status
NEW YORK » In a legal blow to the tobacco industry, a federal judge in Brooklyn ruled yesterday that people who smoked light cigarettes that were often marketed as a safer alternative to regular cigarettes can press their fraud claim as a class action suit.
Judge Jack B. Weinstein of U.S. District Court in Brooklyn found "substantial evidence" that the manufacturers knew light cigarettes were at least as dangerous as regular cigarettes.
The decision, coming at a time when the tobacco industry felt it had been on a legal winning streak, raises the possibility that so-called lights cases will become a major legal threat to the companies and expose them to potentially significant damages.
The case, first filed in 2004 against Philip Morris USA, R. J. Reynolds Tobacco Co., British American Tobacco, Liggett Group, Brown & Williamson and Lorillard Tobacco, differs from many previous tobacco lawsuits in that it does not claim that smokers suffered personal injury. Instead, the case -- called the "Schwab" case after lead plaintiff Barbara Schwab -- claims that the industry defrauded consumers beginning as early as 1971, when Philip Morris began selling Marlboro Lights, the first light cigarette.
Yahoo to close final week of year
SUNNYVALE, Calif. »
Yahoo Inc.
plans to close its U.S. offices during the final week of the year, a cost-cutting measure that will require most of the Internet icon's 10,500 workers to use their vacation time if they want to be paid for the time off.
It will mark the first time in Yahoo's 11-year history that its U.S. employees have been required to burn up vacation time during the week between Christmas and New Year's -- a traditionally slow period for most businesses outside the retailing and hospitality industries.
"Taking a little time off during a work week when so many of our partners and advertisers are also closed is the prudent thing for Yahoo to do," Libby Sartain, the company's senior vice president for human resources, wrote last week in an e-mail posted on Valleywag.com, an online site devoted to Silicon Valley gossip.
Starbucks accused of playing dirty
Starbucks Corp.
, the world's largest coffee-shop chain, was sued by an independent cafe owner for alleged anti-competitive activities.
The lawsuit, which seeks class-action status, was filed in U.S. District Court by Penny Stafford, owner of Belvi Coffee and Tea Exchange Inc. in Bellevue, Wash., the law firm of Hagens Berman Sobol Shapiro said in a statement.
Stafford claims Starbucks seeks exclusive lease agreements with property managers, preventing other coffee shops from operating in the same building. She also says employees from Starbucks locations near her store at Bellevue City Center would give away drink samples in front of her shop to lure customers.
Viacom links CEO's pay to performance
In yet another effort to restore investor confidence,
Viacom
said yesterday that its chairman and controlling shareholder, Sumner M. Redstone, was restructuring his pay to more clearly align it with shareholder interest and to base it on the company's financial performance.
Overall, Viacom, the giant media company that owns MTV and Paramount Pictures, said Redstone's salary would be reduced starting in 2007 from $1.75 million to $1 million, his $1.3 million in deferred compensation would be eliminated, and a bonus, paid if certain targets are met, would be reduced from $6.1 million to $3.5 million.
---
BUSINESS PULSE