---
FAST FACTS HAWAII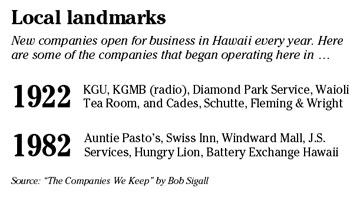 ---
NATION


Social drinkers tend to earn more money

If you're looking to make more money at your job, have a cocktail. A recent study found that drinkers take home more money than those who avoid libations altogether.

Female drinkers earn 14 percent more than nondrinkers, while male drinkers make 10 percent more than abstainers, according to a study from the Reason Foundation, a nonprofit think tank.

Additionally, social male drinkers -- those who visit a bar at least once a month -- bring home another 7 percent in pay on top of the 10 percent premium.

"Social drinking builds social capital," said Edward Stringham, an economist at the foundation. "Social drinkers are out networking, building relationships and adding contacts to their BlackBerries that result in bigger paychecks."

However, women don't benefit from social drinking, according to the study. Women who frequent bars at least once a month showed no difference in earnings than women who didn't.

The study was based on an article published in the Journal Labor Research earlier this year.
How freelancers can keep benefits
So you've ditched the corporate world for autonomy and a home office. But to make it as your own boss, you must compensate for the company benefits you left behind.
The Freelancers Union offers several tips for those seeking independent professional lives:
» Retirement: Without a steady income and access to a company pension, you must force yourself to set aside a monthly amount for retirement. Research ROTH IRAs, Traditional IRAs, 401(k)s, 403-b SEP and SIMPLE IRAs to find your best options.
» Insurance: While you may be tempted to live on the edge, you should always carry some kind of health insurance. If paying for full coverage is too costly, opt for a catastrophic plan with low monthly premiums and high deductibles in case of an emergency.
» Savings: Prepare for dry spells in income by opening a money market account that automatically takes a certain amount from your checking account each month. You won't notice the deduction and you'll be saving each month.
» Debt: You may rely more on credit cards to offset inconsistent paychecks. But make sure to keep a good line of credit. Find a credit card with a permanent low interest rate at www.bankrate.com.

Temptation awaits dieters at work
Having trouble sticking to your diet while at work? You're not alone.
Most employees must contend with goodies brought into the office or unhealthy options in vending machines, according to a recent study by The Marlin Co., a workplace communications firm.
Nearly three-quarters of workers said that cakes, cookies or candies are sometimes, if not always, served for special occasions like birthdays and holidays.
Sixty-three percent reported that the office vending machines contained mostly junk food, while only 12 percent said that wasn't the case.
These temptations exist despite company efforts to promote healthy living. More than half of workers reported that their company encourages a healthy lifestyle by offering information or resources on healthy living.
"It's a shame that while companies are finally getting the message out to the work force about maintaining healthy lifestyles, their employees are often being tempted to snack on junk food," said Frank Kenna III, Marlin Co. president. "Why aren't companies backing up their positive behavior messages with healthy snacks?"
The survey was conducted in May and June and polled 751 employed adults nationwide.
---
BUSINESS PULSE