ELECTION 2006
More election results to come later in the night
Those staying up late tonight to watch election returns will notice a change in the way the results are reported this year.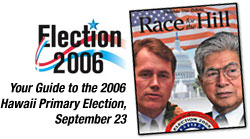 The state Office of Elections plans to release more information late in the evening. Instead of what's called the "third printout," which usually has come out about 11:30 p.m. in past elections, counties will release their results when the counting is done.
So instead of a combined statewide printout, it's expected that Kauai results will be finished first at about 10:30 p.m., followed by Maui at about 11 p.m., then the Big Island and Oahu at about 11:30 p.m.
The counting of the first absentee ballots begins earlier in the day, but the first returns will be not be announced until after the last polling station closes sometime after 6 p.m. The first printout will contain most of the absentee ballots -- expected to be a little more than 100,000 votes.
Don Clegg, a longtime political pollster for former Mayor Frank Fasi, said the first printout is not a good indication of the election winner unless a large lead develops.
Anything over 10 percentage points will be "very difficult" to make up in a statewide race, he said.
The absentee ballots will also give some hint as to the extent of the crossover vote in the U.S. Senate and 2nd Congressional District contests.
In the 2004 and 2002 elections, about one in four absentee voters took out a Republican ballot. If the percentage is much lower, that would be an indication that voters who normally vote Republican, cast a Democratic Party ballot to vote in the U.S. Senate race.
Republican crossover votes are likely to be a key factor if U.S. Rep. Ed Case is to beat incumbent U.S. Sen. Daniel Akaka.
UH-Manoa political science Professor Ira Rohter believes Akaka should have an advantage in the absentee vote because of organized absentee-voter campaigns by labor unions, who support the senator.
A higher turnout with more new voters will benefit Case, said Neal Milner, the UH-Manoa ombudsman and a political science professor. But generating a high turnout and Republican crossover is difficult to do, he said.
The state Office of Elections plans to release a second printout about 9:30 p.m., before the TV newscasts at 10 p.m., which should have results from about half of the precincts.
Results from Lanai, Molokai, remote east Maui precincts, and from North Kohala to Pahala on the Big Island will be sent by modem to counting centers in Wailuku and Hilo and should be included in the second printout, said Dwayne Yoshina, state chief election officer.
Generally, ballots from precincts the farthest away from the counting centers, like the North Shore and Waianae Coast on Oahu, will not be included in the second printout. That could mean a late night for candidates in the 2nd Congressional District, where those results are a large part of the vote. The district covers the neighbor islands and rural Oahu.
The final printout, which usually comes out in the wee hours of the morning, consists of absentee ballots that were received by mail on election day or were dropped off at polling places. Candidates in close races may have to wait until those votes are counted before their contests are decided.