ELECTION 2006
Democrats' traditional Hilo rally saved at last minute
HILO » Every election since 1954, Hawaii's Democrats come to Hilo and the rusting bandstand at Mooheau State Park for the rally to end their primary campaign. This year, the colorful bay-front rally almost didn't happen.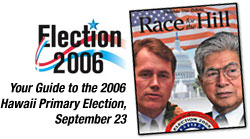 Lack of interest, in-fighting between Democrats in Hilo and Kona, and a fear that many people had already voted absentee was dragging the rally down.
Hilo Democrat and community activist George Yokoyama said just one month ago the rally was canceled.
The two stars of this year's Democratic primary -- U.S. Sen. Dan Akaka and his opponent, U.S. Rep. Ed Case -- pulled out.
The rally went on last night after one person worked the phones and got the politicians and would-be politicians to hold the traditional event.
The Democrat's heroine was 29-year-old Leah Craft, with the Hilo Small Business Downtown Center, a supporter of congressional candidate Brian Schatz.
"I started reaching out to candidates and to the party," Craft said. "It was a 52-year tradition."
According to Democratic party lore, in 1954, Hawaii Republicans attempted to foil the burgeoning Democratic party by reserving all the large public spaces for election-eve rallies.
"The only place available was this junky old bandstand in Hilo where nobody would go," Craft said.
The Democrats came and 1954 was the year they took over the territorial Legislature. They have been in charge and coming back to Hilo ever since.
"There are still a lot of people on the Big Island who are undecided and they said they would like to hear the candidates one more time," Craft said. "The people will come to listen to the speeches, and it taps into something different for voters."
The rally last night, like every one before it, was carried not on television but on local radio. The Democrats dutifully waited for a Major League Baseball broadcast to end before they could start their rally.
Of the eight major Democrats running for the 2nd Congressional District seat vacated by Case, six were in Hilo.
When he got up to speak, Schatz looked out at the crowd of 200 and said, "The center of the Hawaii political universe is right here tonight in Hilo."
The themes echoed by the six candidates centered on their opposition to the Iraq war and Republican fiscal policies.
"We all sound alike because we are all good Democrats," quipped candidate and state Sen. Colleen Hanabusa.
"The Democrats you see running for Congress will be the future of the Democratic Party," she added.
State Sens. Ron Menor and Gary Hooser, who are also running for the U.S. House seat, both ended their primary campaigns with speeches condemning the Iraq war and pledging to work to end it if elected.
Former Lt. Gov. Mazie Hirono urged a policy "that will bring the troops home safely," and former state Sen. Matt Matsunaga, son of former U.S. Sen. Spark Matsunaga, recalled that he first came to Hilo to speak in 1988 to represent his father.
Although she was not at the Democratic rally, Republican Gov. Linda Lingle loomed large for the two candidates for governor, former City Councilman and legislator Randy Iwase and William Aila Jr., a state harbormaster.
Both men repeatedly referred to Lingle's $6 million campaign treasury. Neither candidate has been able to raise more than $150,000.
"The Republicans are interested only in more public relations," Iwase said.
Noted Aila, "If we come together, it doesn't matter that she has $6 million."