| | |
| --- | --- |
| | Wood Craft |
---
Fred Weyand's Mary tosses surprise party for his 90th
It took some doing but
Mary Weyand
managed to pull off a surprise 90th birthday party for husband
Fred Weyand
at their Maunalani Circle home Sunday. Fred, a retired four-star general and former Army chief of staff, had a quiet family birthday supper on Sept. 15 and had no idea Mary had invited about 75 people for the Sunday soiree. At that one, Fred treated the guests to a bit of his saxophone artistry and gave a nice speech. Fred's baby brother
Bob
, 84, dressed in a white tux, blue suede shoes and wearing a black wig and sideburns, did a hot dance to Elvis' "Blue Suede Shoes" ...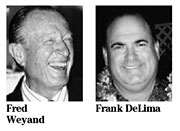 MOVING ON: The October issue of Food and Wine magazine ranks VINO Honolulu No. 13 in a section entitled "America's 50 Most Amazing Wine Experiences." It reads, "At renowned Hawaii restaurateur D.K. Kodama's Honolulu wine bar -- which also has a branch in Maui -- regulars come in for Master Sommelier Chuck Furuya's outstanding wine list and chef Hiroshi Fukui's small plate, Italian inspired dishes" ...
Tori Richard is holding a buffet dinner and fashion show to celebrate 50 years here Oct. 5 at the Hawaii State Art Museum. Jocelyn Fujii, who wrote the book, "Tori Richard: The First Fifty Years," will attend. Chef Glenn Chu of Indigo is preparing food. Today's Tori Richard fashions and those from the past will be modeled. Josh Feldman is company ceo and president ...
Crowd gets a DeLima treat at Paul & Terri's
Customers at Paul & Terri's Place in the Chinese Cultural Plaza got a special treat Sept. 15.
Frank DeLima
was in the house to record a live CD. The comedian brought "Mary Tunta" and "Cardinal Francis X Vermicelli Al Dente" with him. He also got the crowd laughing with his jokes and had the drinkers singing a new song with him. It's difficult to catch a DeLima show but if you're planning a trip to the mainland, DeLima's Web site says that the comic will be at the California Hotel & Casino in Las Vegas on Nov. 4 and at the Normandie Casino in Gardena, Calif., on Nov. 11 ...
Suzanne Koan
, original owner of Splash! and Suhana Designs in the 1970s and '80s is designing swimwear again and will soon release a new line ...
Ben Wood
, who sold the Star-Bulletin in the streets of downtown Honolulu during World War II, writes of people, places and things in our Hawaii. E-mail him at
bwood@starbulletin.com