---
FAST FACTS HAWAII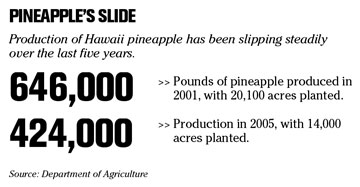 ---
HAWAII


Hawaiian Airlines wins video award Hawaiian Airlines

' inflight entertainment captured first place in the small-fleet category -- 24 or fewer aircraft -- at the 18th annual Avion Awards in Miami.

The carrier, which won in the category of "Best Entertainment for Main Screen," said its "Hawaiian Skies" inflight video that is shown both in first class and the main cabin was a major reason for capturing the honor. The video, produced by Hawaiian on a bimonthly basis in association with Coco Palms Pictures, emphasizes the unique qualities and cultural attractions that make Hawaii stand out as a destination. In addition, Hawaiian is the only airline serving Hawaii that shows an inflight ocean safety video.

Hawaiian also was named first runner-up for "Best Overall Inflight Entertainment" in the small-fleet category, finishing second to Jet Airways of India.

A 23-member international judging panel evaluated more than 160 samples of inflight audio, video, print and interactive entertainment representing 42 airlines worldwide. Entries were judge for originality, suitability, production value and content.
NATION


Buffett's car auctioned for $73,200

OMAHA, Neb. » An

eBay

bidder bought Warren Buffett's Lincoln Town Car for $73,200 today, almost five times the 2001 vehicle's worth.

Proceeds of the auction of Buffett's car go to Girls Inc., a national nonprofit youth organization that provides educational and recreational programs to girls, particularly those in high-risk, underserved areas.

Buffett's light gold Town Car has just 14,000 miles on it. The Kelley Blue Book retail value of the car is about $15,000.

Along with the car, the winner will get Buffett's "THRIFTY" license plate and an engraved plaque bearing the investor's signature. Buffett also will pick up the winner at the Omaha airport when he or she comes to claim the car.
Sony cuts price of Playstation 3
TOKYO »
Sony
said yesterday it will slash the price of its twice-delayed PlayStation 3 game console in Japan by 20 percent, heating up competition in the next-generation gaming war against rivals
Microsoft
and
Nintendo
. Sony said the move was in response to consumer complaints the console was too expensive. The basic PlayStation 3 will cost about $410 in Japan when it hits stores Nov. 11. In the U.S., it will go on sale Nov. 17 at $499.
Firm gave stock options to dead man
NEW YORK » In one of the more unusual twists in the current wave of stock options irregularities, cable TV operator
Cablevision Systems Corp.
said it granted options to an executive after he died.
Cablevision restated its financial results Thursday because of improper stock options practices and also said it had received a subpoena from the U.S. Attorney's Office for the Eastern District of New York, which is investigating the company.
In a regulatory filing, Cablevision disclosed that it had granted options to an executive after his death, but improperly recorded the date of the grant to an earlier time when the executive was still alive.
A Cablevision spokesman didn't return a call for comment yesterday. Cablevision also restated financial results Thursday because of the options practices, with a net impact of reducing earning by $89 million since 1997.
Maytag repairmen change colors
GRAND RAPIDS, Mich. » After being depicted in TV commercials for decades as a lonely guy with little to do because of the dependability of his company's appliances, the Maytag repairman is changing uniforms.
Some 1,000 repair technicians employed by Maytag Corp. before the appliance maker was acquired by rival Whirlpool Corp. are expected to be working for a different repair company by January, Whirlpool spokeswoman Jody Lau said yesterday.
Most are likely to accept similar positions at an appliance-repair joint venture owned by Whirlpool and Hoffman Estates, Ill.-based retail giant Sears Holdings Corp., Lau said.
"The vast, vast, vast majority" of the technicians will be offered jobs at the joint venture, A&E Factory Service, she said. The changes are to be completed by Jan. 31.
---
BUSINESS PULSE