---
FAST FACTS HAWAII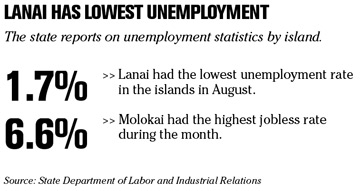 ---
HAWAII
Maui Divers opening more Hawaii stores
Honolulu-based
Maui Divers Jewelry
announced expansion plans yesterday that will bring its total number of stores to 65.
A new store opened at Honolulu Airport earlier this month, while another is scheduled to open at Queen Kaahumanu Center on Maui in October. Maui Divers also will open two new stores at Outrigger's Beach Walk project -- a Maui Divers Jewelry and Island Pearls. Meanwhile, an existing store at the International Marketplace in Waikiki will expand to 1,200 square feet.
Bob Taylor, president and CEO, said, "We've been lucky enough to capitalize on prime locations that we're confident will only add to our total sales, as we have not seen any cannibalization of sales at existing stores when we open new ones."
Taylor also said sales in July set a record for 47-year-old Maui Divers Jewelry. Besides Hawaii, the company also has retail stores in San Diego and Orange, Calif., Las Vegas and Orlando, Fla.
Pact reached over egg labeling
Hawaii and 15 other states that have reached an agreement with the United Egg Producers to resolve allegations that the trade group misled consumers about how egg-laying chickens are treated, the state said yesterday.
The states and the District of Columbia began an investigation early last year into the trade group's "Animal Care Certified" logo on egg cartons. The investigation concluded that the logo misled consumers about the quality of care, which allowed the forced molting of hens, confinement in crowded wire cages and debeaking of chicks, according to the state Office of Consumer Protection.
Under the agreement, the trade group agreed to permanently drop the logo and not misrepresent the level or type of care given to the egg-laying chickens. The industry also agreed to pay $100,000 to states for attorney fees, consumer education and other costs.
ML Macadamia maintains dividend
ML Macadamia Orchards LP
declared a regular quarterly dividend of 5 cents a unit yesterday that will be payable Nov. 15 to unit holders of record as of next Friday.
The Big Island partnership, the largest grower of macadamia nuts in the state, has paid consecutive quarterly dividends since its inception in 1986.
On assignment
Erika Engle is on assignment. TheBuzz will return on Sunday.
---
[HAWAII INC.]
NEW HIRES
»
American Savings Bank
has hired
Connie Clausen
as the new branch manager for the bank's Kapaa, Kauai, branch. Clausen previously served as business development account executive for the
Kauai Community Federal Credit Union
.
» Maui Memorial Medical Center has hired Joanne Iritani as regional chief nurse executive. She previously served the same position at the Hilo Medical Center. Lee Johnson has been hired as administrator for Kula Hospital and Clinic. She previously served as financial administrator for Harrison Medical Center in Bremerton, Wash.
PROMOTIONS
»
R.M. Towill Corp.
has promoted
Leighton "Doc" Lum
from chief environmental engineer to vice president. Lum joined the firm in 1979 after graduating from the University of Texas at Austin.
» Bennett Group Inc. has promoted Lee Tokuhara to senior account director. She handles public and customer relations with many of the firm's primary clients. Tokuhara joined the Bennett Group in 2005 following completion of her MBA.
» The Gas Co. has named Steven Golden as vice president of external affairs. Golden will be responsible for statewide public, government and regulatory affairs; employee communications; and media relations. Golden began his career at the Gas Co. as manager of integrated resource planning.
» Kahi Mohala Behavioral Health has promoted Dr. Kimberly Ann Charlton to clinical director of its Lokelani child and adolescent unit. She will supervise the physicians and staff assigned to the unit, and help develop clinical and rehabilitative programs. Charlton continues to serve as the clinic's chief of staff and staff inpatient psychiatrist.
» Wilson Homecare has promoted Diana Thayer to the newly created position of executive assistant from office manager. She will assist the company's president and founder, Shelley Wilson, with operations and various day-to-day activities. Thayer previously served as office manager for CNC Machine and Manufacturing in Kansas City, Kan.
» Alexander & Baldwin Inc. has promoted Christina Lee Dang to the newly created position of associate director, internal audit. Dang will continue to serve as director, internal audit, on an interim basis.
» Hawaii Community Federal Credit Union has promoted Linda Meyer to vice president of information systems. She will be responsible for providing management support services in the area of information systems and any other technology-related needs of the credit union. Meyer has worked at HCFCU for more than five years in various information systems positions.
» Desert Island Restaurants has promoted Bob Snyder to chief operating officer and president from vice president and chief financial officer. Snyder will be supervising operations of the company's Ruth's Chris Steak House and Romano's Macaroni Grill restaurant locations on Oahu and Maui.
» Allstate Insurance Co. has promoted Scott Morrison to market claim manager of Allstate's Honolulu market claim office. Morrison previously served various positions in Allstate's Virgina Beach, Va., claims office for eighteen years.
---
BUSINESS PULSE