| | |
| --- | --- |
| | Newswatch |
---
Seniors fair features eye doctor
Dr. John D. Olkowski, chief surgeon and medical director of EyeSight Hawaii, will discuss "New Eye Surgeries for Old Eye Problems" at 11 a.m. tomorrow at the Hawaii Seniors Fair in meeting room 6 at the Blaisdell exhibition hall. The EyeSight Hawaii Laser Eye Institute also is working with the Lions Club Foundation to increase the number of used eyeglasses for the needy. People are asked to donate used eyeglasses at EyeSight Hawaii's booth, Nos. 123 and 124.
---
BOAT TUG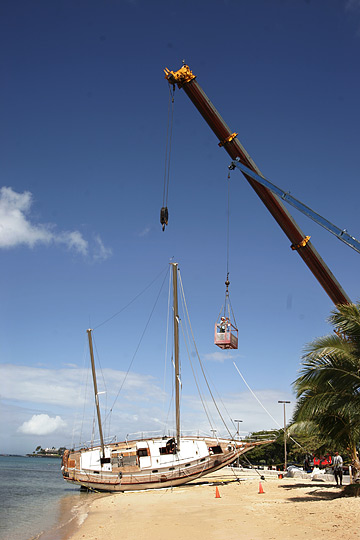 ---
SHINING STARS
---
GRANTS
Donations pay tuition for HCC students
Hawthorne Pacific Corp.
and
Caterpillar Inc.
donated $10,000 to
Honolulu Community College
to provide the Diesel Mechanics Technology program with tuition scholarships.
---
Keiki O Ka 'Aina Family Learning Centers received $20,000 in federal funds from the Department of Health and Human Services Administration for Native Americans.
The grant will be used to support an outdoor classroom and it also part of an effort to help Keiki O Ka 'Aina be self-sufficient.
---
Family Promise of Hawaii received $25,000 from the Honolulu Country Club Foundation as a co-beneficiary of its 2nd Annual Charity Golf tournament. Lokahi Giving Project also received funds. Family Promise coordinates the temporary housing of homeless families by churches and congregations.
HONORS
Skipping Stones,
a nonprofit multicultural magazine for children ages 7 through 17, gave its annual Youth Honor Awards to
Ethan Sumida
, 14;
Courtney Lelepali
, 15;
Curtis Hayashi
, 7;
Iris Pak,
13;
Ashlyn Chee
, 8, and
Resy Kony
, 10, for their poetry and art contributions.
---
"Shining Stars" runs Monday through Thursday.
| | |
| --- | --- |
| | Police, Fire, Courts |
---
Father sought in 2005 infant suffocation death
A grand jury bench warrant has been issued for the arrest of a man accused of causing the death of his 3-month old baby in November 2005.
Lionel Letoto was indicted yesterday by an Oahu grand jury on a charge of second-degree murder in the death of Noah Williams at their Pensacola Street apartment. Medical examiners concluded that the baby died of "asphyxia due to suffocation by pillow and comforter," and that the manner of death was homicide.
Bail for Letoto was set at $100,000.
WINDWARD OAHU
3 held in alleged purse theft at beach
Police arrested three 17-year-old boys on suspicion of theft after they allegedly stole a purse from tourists on a Kailua beach yesterday.
The tourists reported the missing purse at about noon at Kailua Beach Park, police said.
Police said a witness saw the teens running from the beach with the purse in hand.
A passerby got the license plate of the getaway car and, through investigation, police tracked down the alleged culprits.
The three were arrested for suspicion of theft.
WAIKIKI
Bullet in bra lands felon in hotter water
A woman arrested on suspicion of drunken driving was also arrested for allegedly hiding a bullet in her bra.
Police said that at about 1:14 a.m. Tuesday a 28-year-old woman was arrested in Waikiki for investigation of drunken driving.
During a custody search at the main police station, officers found a bullet hidden in the woman's bra, police said.
Since the woman is a convicted felon she was then arrested for investigation of being a felon in possession of ammunition.
She was also arrested on suspicion of driving without a license.
CENTRAL OAHU
18-year-old arrested over stolen check
Police arrested an 18-year-old man who allegedly tried to cash a forged check that a woman had allegedly stolen from her father.
Police said the daughter stole the check, gave it to a friend who allegedly helped in the forgery and then gave it to the suspect to cash.
The 54-year-old father from Wahiawa was contacted and confirmed that the check had been stolen and forged. Police arrested the suspect Tuesday for investigation of second-degree forgery and unlawful possession of confidential personal information.
HONOLULU
Suspect sought in Chinatown robbery
Police are looking for a man who robbed a Chinatown bank yesterday afternoon.
Police said the man entered the First Hawaiian Bank at 2 N. King St., at 1:04 p.m. and handed the teller a demand note, which said in part, "Give me the money."
The teller complied and handed him an undisclosed amount of cash, police said.
The man, about 40 years old, fled on foot.
He is described as 5 feet tall, weighing about 140 pounds, with black hair, black eyes and was wearing a faded blue T-shirt, dark shorts, slippers and a maroon baseball cap.