---
FAST FACTS HAWAII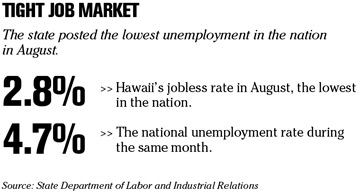 ---
HAWAII
Hawaii's jobless rate falls to nation's lowest
Hawaii returned to a familiar place in August, once again posting the lowest unemployment rate in the nation.
The seasonally adjusted rate fell to 2.8 percent from 3 percent in July. Nationwide, unemployment decreased slightly to 4.7 percent.
The state Department of Labor and Industrial Relations reported that Hawaii is now the only state with unemployment below 3 percent -- ahead of South Dakota, Virginia and Utah, all with 3.2 percent.
"Hawaii's working families continue to reap the benefits of a vibrant economy, long-term job growth and low unemployment," said Nelson B. Befitel, department director.
The Hawaii labor force topped 650,000 in August, with 632,200 employed and just 18,200 reported jobless.
Oahu and Maui County had the lowest unemployment with 2.7 percent each, compared to Kauai with 3 percent and Hawaii County with 3.2 percent.
NATION
Ex-Berkshire executives indicted
NEW HAVEN, Conn. » Four former senior executives of Berkshire Hathaway's
General Re Corp.
and a former senior executive of
American International Group Inc.
were indicted yesterday on charges they participated in a scheme to manipulate AIG's financial statements, prosecutors said.
The indictment alleges that the defendants engaged in a fraudulent scheme to make it appear as if AIG increased its loss reserves, a key financial indicator to analysts and investors.
Oil prices drop by more than $1
WASHINGTON » Oil prices fell by more than $1 a barrel yesterday after the U.S. government released data showing healthy crude inventories and a surge in domestic supplies of distillate fuel, which includes diesel and heating oil.
The selling briefly took oil prices below $60 a barrel -- the level OPEC has hinted could initiate an output cut.
"It's a case of a self-fulfilling prophecy," said Alaron Trading Corp.'s Phil Flynn. "OPEC's been dropping hints that it wants to defend $60 and the market is saying 'OK, let's see you do it.'"
Embattled HP chair honored in Bay Area
SAN FRANCISCO »
Hewlett Packard Inc.
's beleaguered chairwoman Patricia Dunn was inducted into the Hall of Fame of the Bay Area Council yesterday during her first public appearance since landing at the center of a corporate investigation gone awry.
"All I will say about the maelstrom is that I look forward eagerly, in the near future, to setting the record straight and going back to leading my life as discreetly as possible," Dunn said during her acceptance speech. "And in the meantime, it wouldn't hurt if the Pope continued to make controversial comments to grab the attention of the press.
"I am fully alive to the irony of being inducted into the Bay Area Council Hall of Fame at this time."
---
BUSINESS PULSE