---
FAST FACTS HAWAII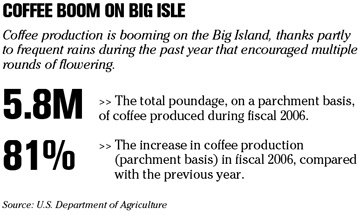 ---
HAWAII
New Oahu tourism plan available for review
The Oahu Tourism Strategic Plan 2006 -2015, which came about as a result of a series of public meetings around the island, is now available for public review and comment.
The plan, which was facilitated by SMS Consulting, establishes a long-range goal for tourism on Oahu and sets a timeline for achieving it. The Mayor's Office of Economic Development, along with an advisory committee of Oahu government, tourism industry and community stakeholders developed the plan.
The plan is expected to be finalized by the end of October, but the public may submit comments until Oct. 2.
The proposed plan may be viewed online at http:oahu.smshawaii.biz. For more information, or to request a hard copy, please contact Krista Seitz, the project director, at 440-0738.
---
On vacation
Erika Engle is on vacation. Her column "TheBuzz" will return tomorrow.
NATION / WORLD
Owens Corning cleared to emerge
PITTSBURGH » A federal bankruptcy judge indicated yesterday she approved of
Owens Corning
's plan for emerging from bankruptcy, more than five years after the building materials maker sought protection from creditors over health claims related to its asbestos products.
Judge Judith Fitzgerald congratulated the parties from the bench yesterday after overruling sometimes impassioned objections from alleged asbestos victims.
Peter Lockwood, an attorney representing asbestos claimants, said "It's been a long hard slog, and we're all gratified it's over."
The judge said that if each claim were handled individually through the court system, the company would never emerge from bankruptcy, and many claimants would never receive compensation.
The plan shifts Owens Corning's $7 billion in asbestos liabilities off company books and into a trust that will be established for the plaintiffs. The company will pay more than $5 billion to asbestos claimants and as much as $2.27 billion to holders of bank debt.
Home Depot to hire 1,000 in U.S.
ATLANTA »
Home Depot Inc.
, the world's largest home-improvement retailer, is hiring more than 1,000 people in the United States as it tries to revive slowing sales growth.
Most of the jobs will be added at stores in Atlanta, Los Angeles, New York, San Francisco and Washington, the company said today. Atlanta-based Home Depot employs about 355,000 full- and part-time workers.
Home Depot said last month it would increase store spending by $350 million, including adding 5.5 million work hours to its sales floors. The company is hiring as the housing market and consumer spending slow. Chief Executive Robert Nardelli said the economy in the second half would be "challenging."
Ex-Enron official gets 2 1/2 years
HOUSTON » A former high-ranking Enron Corp. trading and retail energy executive was sentenced today to 2 1/2 years in prison for insider trading in connection with the energy company's financial collapse.
David Delainey, who pleaded guilty in October 2003, had admitted to participating in schemes to manipulate earnings to please Wall Street.
The Canadian citizen faced up to 10 years in prison. Prosecutors had recommended he receive a sentence on the lower end of the guideline range due to his cooperation in their investigation of Enron's collapse.
ImClone Systems loses patent lawsuit
NEW YORK » In a blow to
ImClone Systems Inc.
and a triumph for a prominent Israeli research institution, a judge ruled yesterday that three scientists from Israel are the true inventors of a process used in the delivery of the cancer drug, Erbitux.
U.S. District Judge Naomi Reice Buchwald directed the U.S. Patent and Trademark Office to replace seven names now on the controversial patent with those of Professor Michael Sela, Dr. Esther Aboud-Pirak and Dr. Esther Hurwitz. The three scientists made the pioneering cancer discovery at the Weizmann Institute of Science in Rehobot, Israel, in the late 1980s.
Lawyers had predicted the case could significantly affect the future of Erbitux, a colon-cancer treatment drug made by ImClone.
Belgian court restricts Google's news links
BRUSSELS, Belgium »
Google
was ordered by a court yesterday to remove all links to French and German language newspaper reports published in Belgium after an association of local publishers won a case that accused the company of violating the country's copyright laws.
The legal action is the most recent example of the news media challenging the growing power of Internet news portals run by the large search engines.
Increasingly, people are obtaining their news in bite-size nuggets on search engines, and advertising revenue for newspapers is diminishing as a result.
Google contends that copyright law protects its service under fair-use provisions.
---
BUSINESS PULSE