---
FAST FACTS HAWAII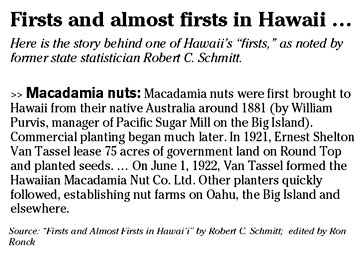 ---
NATION


Receptionists can affect your future

When you check in with the receptionist before an interview, remember to smile because the person behind the front desk holds more power than you think.

"Some companies feel a lot can be learned from how candidates treat receptionists, particularly if they're rude, condescending or arrogant," said Greg Gostanian, a managing partner at ClearRock, an executive coaching and outplacement firm. "Employers feel this is an accurate reflection of how candidates would treat their co-workers and direct reports."

Gostanian offers the following tips in reception manners.

» Be friendly, but formal: Take the time to learn the receptionist's name, which always leaves a positive impression.

» R-E-S-P-E-C-T: Don't treat the receptionist as an underling. If offered a drink, keep it simple and don't expect the receptionist to go out of the way to serve you.

» Watch your mouth: Expect everything you say to the receptionist to get back to the interviewer, so speak carefully. Avoid talking on your cell phone. Those conversations could come back to haunt you.

» Bid adieu: Make sure to thank and say goodbye to the receptionist after the interview. Last impressions are unforgettable.
What do your duds say about you?
Whether you prefer khakis and a sweater vest or a pinstriped suit, your office threads speak volumes about your personality, according to one survey by
TheLadders.com
, an online recruiting resource.
More traditionally dressed employees are perceived as more senior level, 70 percent of surveyed executives said, while 60 percent said that they're taken more seriously.
Despite those professional props, buttoned-up employees are considered less creative and less fun than their casually dressed counterparts, and 16 percent said that suit-and-tie employees come across as rigid.
"Seventy percent of executives said that clothes can help present the right image. I agree with them," said Marc Cenedella, president and CEO at TheLadders.com. "Presenting yourself in the best possible light, whether you're dressed for a relaxed or formal environment, can help to boost your confidence level."
The top fashion faux pas, according to the survey, included too revealing clothing, flip-flops, jeans and sleeveless shirts.
TheLadders.com surveyed 2,245 executives during August.
Moms fail to reward themselves
Mothers may have one of the most rewarding life professions, but they often fail to reward themselves with their credit card points programs, according to a recent survey.
Of the 539 mothers surveyed by Disney Credit Card Services, a unit of Walt Disney Co., 41 percent use a rewards credit card. But more than half have yet to redeem any points.
Fifty-five percent haven't redeemed their points because they feel they haven't earned enough, while 41 percent are waiting for the right time.
Additionally, 31 percent are unsure of the rewards that their credit card offers.
Unfortunately, many mothers can't find the right rewards program, according to the survey. More than four out of ten mothers are dissatisfied with their credit cards' reward programs, and 34 percent said their credit cards don't offer rewards that their families want.
Nearly one-third are frustrated by reward restrictions like blackout dates, high point thresholds, and limited availability to use rewards for flights and hotel rooms.
---
BUSINESS PULSE