BOARD OF EDUCATION
Funding, proficiency issues face BOE
Some 22 candidates vie for five seats on the nonpartisan board
The lack of pay, along with frequent public criticism of Hawaii schools, might make service on the state Board of Education seem like a thankless job.
But that has not prevented the usual assortment of old and new names from throwing their hats into the ring.
Twenty-two candidates, three of them incumbents, are vying for five open seats on the state Board of Education, which oversees the state Department of Education and sets policy for Hawaii's public schools.
The new hopefuls include former Democratic state legislators Donna Ikeda, Terrance Tom and Brian Yamane, and Republican ex-legislator Bob McDermott, who are among those seeking to fill three Oahu at-large seats on the nonpartisan 14-member board.
Ikeda also is a former board member, as is John Penebacker, one of the stars of the "Fab Five" University of Hawaii basketball teams of the 1970s, who will be vying for the Windward Oahu seat.
SHIFT IN TONE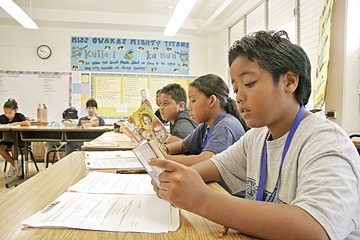 Though the board has no control over state purse strings, the victors will have plenty of weighty issues to deal with.
They include the continued tweaking of a divisive school funding formula imposed by the state Legislature, and steering a course as more local schools inevitably incur sanctions for falling short of rising performance targets mandated by the Bush administration.
The challenge could be to focus a sprawling school system on priorities.
"There are just so many initiatives and mandates faced by the DOE, many imposed by outside entities but some internal as well," said longtime member Karen Knudsen, who is seeking re-election to her Oahu-at-large seat.
"We need to narrow our focus -- not to just one thing at time, but also not 10 things at a time," she said.
The September primary election will reduce the field to 10 candidates, who will compete in the general election.
Although nonpartisan, there is a partisan subtext to this year's campaign.
Gov. Linda Lingle, a critic of DOE performance who pushed a plan to break up the school system into several districts two years ago, used a pair of midterm board vacancies last year to appoint ideological mates Darwin Ching and Paul Vierling to the traditionally Democratic-leaning board.
Ching, who ran and lost before, will try to hold on to his Oahu-at-large seat, while Vierling, who shares the governor's strong support of charter schools, will be up against Penebacker.
The board's usual tone is one of strong support for the DOE and schools amid a perception of underfunding from the Legislature. But members have increasingly indicated a desire for more efficiency and better results from the $2 billion-a-year department.
"The (school system) is like a big kitchen with a lot of chefs and recipes and ideas and ways of cooking, and it's surprising it works as well as it does," Ching said. "But we've got to make it work better."