Temple Emanu-El chooses new leader
The congregation of Temple Emanu-El has chosen Rabbi Peter Schaktman as its teacher and spiritual leader.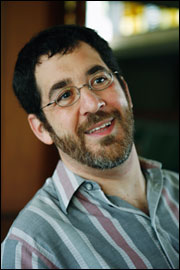 Schaktman was appointed interim rabbi one year ago, filling a vacancy left by the retirement of Rabbi Avi Magid. He was asked to continue as rabbi and has signed a two-year contract.
"Whether in sacred worship or in a classroom, in committee meetings or youth group events, counseling or handling family emergencies and services, Rabbi Schaktman has shown his leadership," synagogue President George Apter said in an announcement. "We were inspired by his teachings, which help us find meaning in our lives through the traditions of Judaism."
Schaktman grew up in Buffalo, N.Y. He graduated from Oberlin College in Ohio and was ordained after study at Hebrew Union College, Jewish Institute of Religion.
He has been a congregational rabbi in Houston; Lake Charles, La.; Staten Island, N.Y.; and Livingston Manor, N.Y. He also worked for nine years on the staff of the Union for Reform Judaism in New York City. He is certified in chemical dependency counseling.